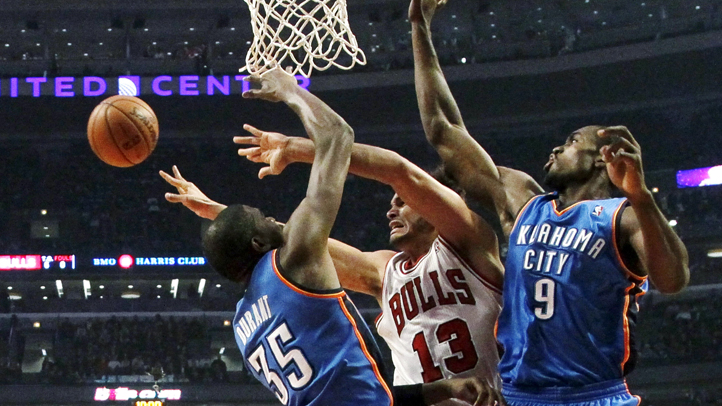 Kevin Durant scored eight of his 24 points in the fourth quarter and the Oklahoma City Thunder beat the Chicago Bulls 97-91 on Thursday night.
Durant iced the game with an off-balance jumper off one foot with 35.1 seconds to play.
Serge Ibaka scored 15 of his 21 points in the first half, and had a team-high nine rebounds for the Thunder, who beat the Bulls for the third time in their last four games at Chicago. Russell Westbrook chipped in with 16 points and 12 assists.
Luol Deng led the Bulls with 27 points, and Richard Hamilton added 20 points and eight rebounds. Joakim Noah had nine points, 13 rebounds and a team-high six assists.
Hamilton made a tying jumper with 2:52 to play, but then Durant took over, making a floater from the top of the key over Deng to keep the Bulls at bay.
Durant was passive for much of the game and didn't attempt a free throw until the closing seconds. He has had just one game without a free-throw attempt since the start of the 2010-11 season.
The Thunder put together a 7-0 to grab the lead with 8:34 to play. Nick Collison capped the surge with a layup off a pass from Eric Maynor.
Deng snapped the run with his third 3-pointer of the game. Deng entered the contest 1 for 11 from behind the arc. Chicago ranked last in the league in 3-point makes, attempts and percentage, but hit a season-high five 3s in the game.
The Thunder responded a six-point run, taking a five-point lead after Ibaka blocked a Deng shot from behind, igniting a fast break and Thabo Sefolosha's layup.
Kirk Hinrich scored seven points to lead a third-quarter Bulls charge, hitting his second 3-pointer of the game and reaching double figures in scoring for the first time this season. Chicago led 72-66 entering the final period.
The Bulls jumped to an early eight-point lead, but the Thunder closed the opening period with a 9-2 run to tie the game. Durant scored the last six points of the quarter on two dunks and a jump shot.
Ibaka scored 11 points on 5-for-9 shooting in the opening quarter and increased that to 15 by the half, when the Thunder led 48-47.
Jimmy Butler helped Chicago stay close the second quarter, putting up six points, three rebounds and three assists in the period, while playing solid defense on fellow reserve Kevin Martin, who scored 15 points for the Thunder.
Hinrich finished with 12 points.
Copyright AP - Associated Press