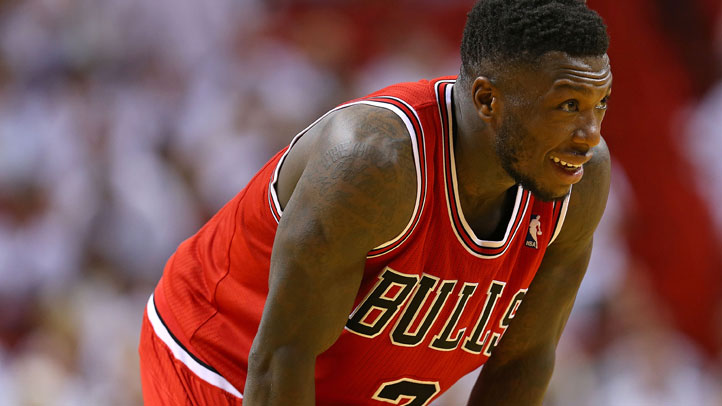 Nate Robinson became one of the most talked-about players in the NBA after his playoff performances against the Brooklyn Nets and Miami Heat. The unrestricted free-agent this summer made himself a lot of money with both his postseason and regular season performances and the diminutive guard is on the radar of a number of teams, including a former employer of his.
The New York Knicks are rumored to be interested in Robinson's services according to Bleacher Report, and a comment made by Robinson's agent, Aaron Goodwin suggests interest on both sides if the 5-9 guard doesn't remain in Chicago.
"Nate's first thought would be to remain with the Bulls, but if the Knicks' opportunity presented itself, I am sure he would appreciate an opportunity to play in New York again," said Goodwin.
The Knicks already have a dynamic scoring option off the bench in JR Smith who was named the NBA's 6th Man of the Year, but his reputation took a hit during the playoffs as it was rumored he spent a number of nights out drinking and partying with pop superstar Rihanna, which raised questions about his commitment to the game of basketball and the New York Knicks.
Smith had a $2.9 million player option with New York which he declined, making him an unrestricted free-agent, like Robinson.
Normal 0 false false false EN-US JA X-NONE /* Style Definitions */ table.MsoNormalTable {mso-style-name:"Table Normal"; mso-tstyle-rowband-size:0; mso-tstyle-colband-size:0; mso-style-noshow:yes; mso-style-priority:99; mso-style-parent:""; mso-padding-alt:0in 5.4pt 0in 5.4pt; mso-para-margin:0in; mso-para-margin-bottom:.0001pt; mso-pagination:widow-orphan; font-size:12.0pt; font-family:Cambria; mso-ascii-font-family:Cambria; mso-ascii-theme-font:minor-latin; mso-hansi-font-family:Cambria; mso-hansi-theme-font:minor-latin;} Follow Outside Shot on Twitter (@Outside_Shot) for more Bulls news and information