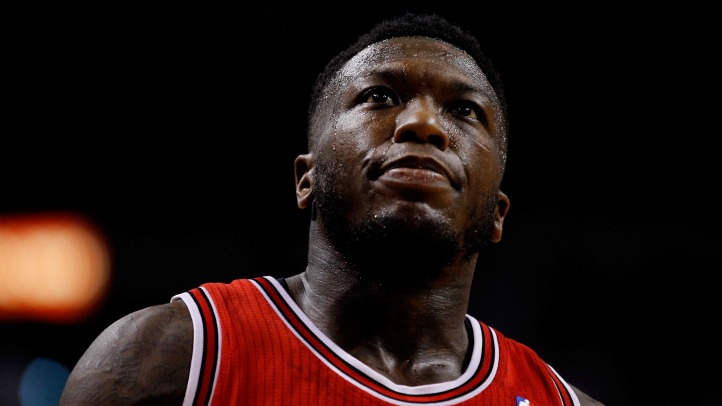 No one expected Nate Robinson to return to the Chicago Bulls after last season, especially not with Derrick Rose coming back, Kirk Hinrich still having another year left on his deal and the hope that Marquis Teague will be able to play the lead guard role in the NBA.

Still, the 5-9 scoring machine finished fourth on the Bulls in scoring last season, played in all 82 games and was the key reason why Chicago was able to triumph over the Brooklyn Nets in the first round of the playoffs last year.
After the Bulls' 2012-13 campaign and the way he played, it was almost certain Robinson would earn himself a sizeable raise over the veteran's minimum and a guaranteed contract for the next two or three seasons.
But Nate Robinson remains an unsigned free agent and when free agency opened on July 1, no one expected he would go unsigned for this long. Last week, Robinson took in the Bulls summer league contest in Las Vegas and joined the broadcast crew (after signing a baby, no less) to talk about his situation and the frustration of still being without a new team and having the security of a new contract was apparent.
"It's frustrating because you put in your hard work. I worked my butt off year in and year out, ever since I was a little boy, to get to this point now, not to be signed. But at the same time, I'm not going to let that discourage me of being who I am, just working hard. I want people to understand and know Nate Robinson is that player who's going to play his heart out, no matter what, good or bad. "
It's hard to argue Robinson on that point. On many nights, Robinson displayed just how fearless and how big of a heart he has. It's those attributes that made him a game changer and fan favorite in Chicago because that's who Nate Robinson is.
"Everybody has flaws," he explained. "At the same time, that's one thing I do: I really cherish this game and I'm really thankful for it. The blessings that God has blessed me with and right now, I'm just waiting. God will put me on that team that will deserve me and that's how I'm looking at it."
Nate Robinson is going to latch on with a team at some point. In a league where talent is paramount, Robinson's is certainly bigger than his stature and he will receive an offer soon. And although it may be frustrating for him as a player, when it comes to him being picked up by a new team, it's more of a matter of "when" and not "if."