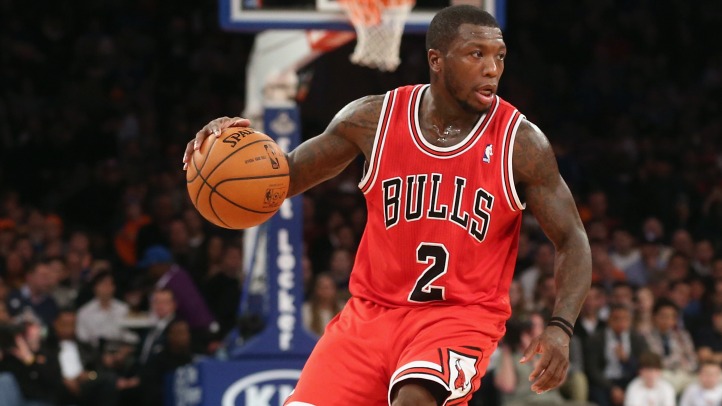 The last two meetings between the Chicago Bulls and the Milwaukee Bucks have been depressing if you're a Bulls fan. Especially the contest on Jan. 9. That was the infamous "trash talk" game between Nate Robinson and Brandon Jennings.
Jennings went off in the third quarter of that game and essentially buried the Bulls by himself. It was a disappointing loss for Chicago, but on Wednesday it was their turn to play the role of the spoiler on Milwaukee's home court. It was also a chance for Robinson to get back at Jennings, and it was mission accomplished on both fronts as the Bulls walked away with a 104-88 blowout victory and Nate totally outplayed his "nemesis" in Jennings.
The Good
Nate Robinson (24 points, 4 assists, 3 assists) was phenomenal. He was 9-11 from the field, frustrated Brandon Jennings enough to get himself ejected, and he got his first dunk in a Bulls uniform, which really got the team fired up and set the tone for the night. Luol Deng (12 points, 13 rebounds, 5 assists) seems to be getting himself back into form after missing a few games with his hamstring injury, and Joakim Noah (12 points, 12 rebounds) continued his exceptional play this season. Taj Gibson (14 points, 9 rebounds) started in place of the injured Carlos Boozer and continued the trend of the Bulls reserves playing well in the starting lineup. Jimmy Butler (18 points, 6 rebounds) also played well returning "home" to the Bradley Center where he played his college ball while attending Marquette. The Bulls dominated the points in the paint category (66-40), shot nearly 50 percent from the field in the game and forced Milwaukee into turning the ball over 18 times and scoring 24 points off those giveaways. The Bulls bench also outscored the Bucks' 50-25.
The Bad
Chicago has struggled in the third quarters of games this season and Wednesday was no different. The Bucks outscored the Bulls 31-24 coming out of halftime, but the Bulls were still able to maintain a lead in the game. The Bulls also shot just 4-13 from behind the three-point line in the game.
The Ugly
It's hard to find something "ugly" about Wednesday night's game, but the play of Kirk Hinrich (6 points, 8 assists) could be a place to start. We've harped on this before and it's almost like beating a dead horse discussing how inconsistent Hinrich has been from an offensive standpoint, but it was apparent once again in Milwaukee.
Follow "Outside Shot" on Twitter (@Outside_Shot) for more Bulls news and information.