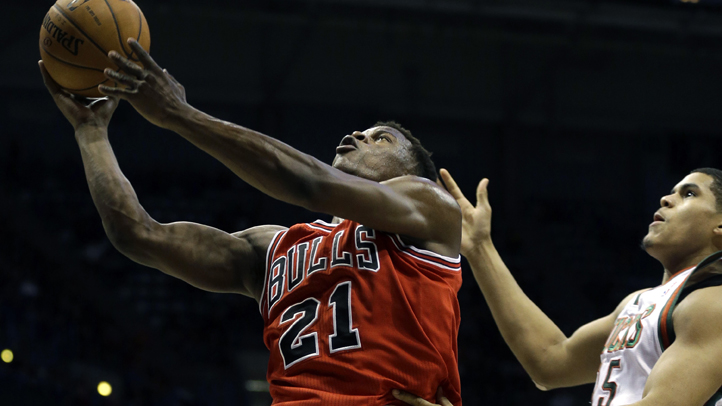 Nate Robinson scored 16 of his 24 points in the second quarter, leading the Chicago Bulls to a 104-88 victory over the Milwaukee Bucks on Wednesday night.
Jimmy Butler, a second-year pro from Marquette, had 18 points and five rebounds in a return to the arena where he played college basketball.
Samuel Dalembert had 14 points and a season-high 13 rebounds for the Bucks. Ersan Ilyasova added 18 points and seven rebounds.
Chicago broke open the game midway through the second quarter, using a 20-4 run to take a 49-30 lead. The run included a long 3-point shot by Robinson, who capped the rally with a driving layup. He was fouled on the play by Brandon Jennings, and converted the free throw.
Robinson, who also had a breakaway dunk during the run, shot 7 for 9 from the floor during the quarter to help Chicago take a 55-37 lead at the half.
The Bulls shot 51 percent from the field in the first half, while the Bucks made just 39 percent of their attempts. Jennings and Monta Ellis, the Bucks' top scorers, combined for just 11 points in the half on 4-for-14 shooting.
The Bucks stormed back in the third quarter, using a 25-14 run at the start of the period to pull within seven points. Jennings, who was ejected late in the game after being called for a technical foul keyed the comeback, scoring 11 points in the quarter.
The Bulls used a 10-6 run to close the period to take a 79-68 lead.
Chicago scored 10 of the first 14 points in the fourth quarter to extend the lead, highlighted by a breakaway dunk by Butler.
The Bulls took a 23-19 lead at the end of the first quarter, paced by Taj Gibson's six points and four rebounds. The Bucks were led by Dalembert's seven points and five rebounds in the period.
Copyright AP - Associated Press