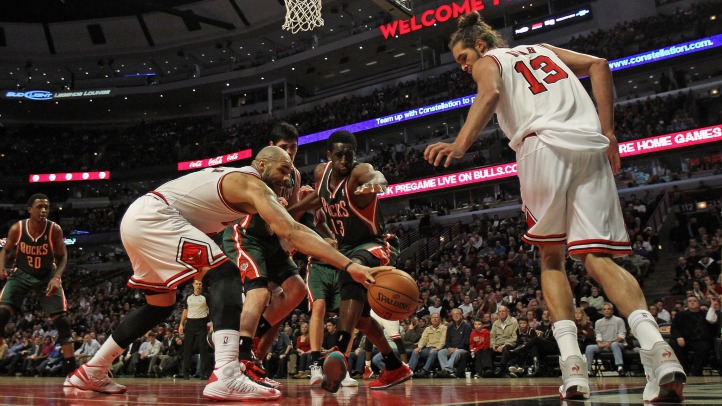 Three years ago, the Chicago Bulls blew a 35-point lead at home to the Sacramento Kings, four days before Christmas. It was one of the more embarrassing and forgettable losses of the Vinny Del Negro era and many fans had filed it away into the deepest parts of their minds.
But three years later, memories of that Kings game would come rushing back for fans as they witnessed the Bulls suffer another epic collapse, this time against the Milwaukee Bucks, just four days after Thanksgiving. It was without question the most forgettable and embarrassing loss in the Tom Thibodeau era, and ironically enough, both of these games happened on a Monday. How weird is that?
The Good
Rip Hamilton (30 points) had back-to-back strong games for Chicago and got the best of his matchup with Monta Ellis. The same goes for Kirk Hinrich (17 points, six assists) who didn't shoot the ball well but was aggressive on both ends of the floor and got a measure of revenge against Brandon Jennings. Carlos Boozer (19 points, 11 rebounds) statistically had another good outing but would make fans groan because of a missed rebound in crunch time.
The Bad
Joakim Noah (6 points, 10 rebounds) had his second straight subpar game, this coming after many writers – myself included – had proclaimed him the best player in the Eastern Conference. Luol Deng (10 points, eight rebounds) wasn't his usual self on a night when the team could've used more scoring from both him and Noah.
The Ugly
With 3:06 remaining in the third and his team facing what seemed like an insurmountable lead, former Bulls head coach Scott Skiles pulled his starters and basically threw in the towel. But his bench guys would play the final 15 minutes of the game, outscoring the Bulls starters 30-12 in the fourth quarter and outscoring the Bulls bench 56-10, stealing the victory. The loss was far more embarrassing for the Bulls than the 35-point comeback by the Kings based on that fact alone.