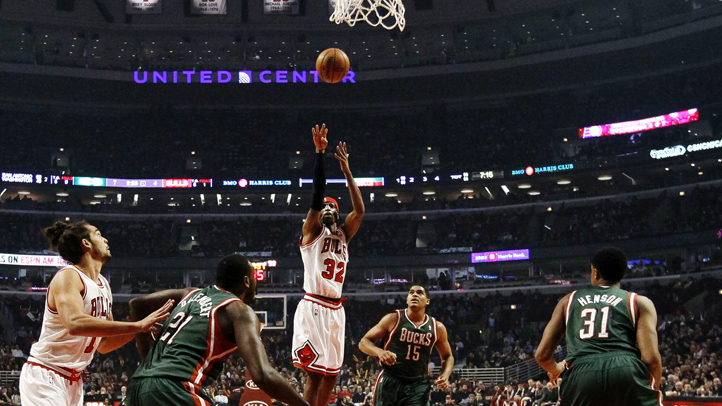 Ersan Ilyasova scored 14 of his 18 points in the second half and the Milwaukee Bucks overcame a 27-point deficit in a stunning 93-92 win over the Chicago Bulls on Monday night.
Richard Hamilton scored a season-high 30 points for the Bulls but missed a shot at the buzzer that could have won it.
Ilyasova led a 31-4 second half-run as the Bucks snapped a nine-game losing streak to Chicago and prevented the Bulls from moving past Milwaukee into first place in the Central Division.
Ilyasova scored 12 points in the fourth quarter when Milwaukee outscored Chicago 30-12. Milwaukee played the entire fourth quarter with five reserves: Ilyasova, Epke Udoh, Beno Udrih, Mike Dunleavy and Doron Lamb.
John Henson, Udrih and Udoh all scored 11 points while Monta Ellis added 10. The Bucks hadn't beaten Chicago since April 6, 2010.
Hamilton was coming off a season-high 22 points in Chicago's 93-86 win at Milwaukee on Saturday. Kirk Hinrich added a season-best 17 points and six assists.
Chicago had one final chance after Dunleavy failed to inbound a pass under the Milwaukee basket. Udoh knocked the ball out of bounds reaching for Dunleavy's pass with 7.5 seconds left and Chicago called a timeout. Hamilton took an inbounds pass and shot a fadeaway at the buzzer over Lamb from 15 feet, but came up short.
Carlos Boozer had 19 points and 11 rebounds for Chicago. Luol Deng added 10 points and eight boards.
The game was reminiscent of the biggest lead the Bulls ever blew at home, which was a 35-point lead in a home loss to the Sacramento Kings on Dec. 21, 2009.
Hamilton and Boozer combined for 17 points in the third period as Chicago seemingly blew the game open.
The Bulls outscored Milwaukee 28-13 in the third period and opened up a 27-point lead on Hinrich's 3-pointer with 2:50 to go in the third quarter. That gave Hinrich his season-high for points, just the third time he's reached double digits this season.
Hamilton scored eight of his 17 first-half points in the second quarter as Chicago took a 48-40 lead at halftime.
Milwaukee hit just 20 percent from 3-point range (3 of 15). The Bucks entered the game shooting 16 percent from deep over its last three games (10 of 62).