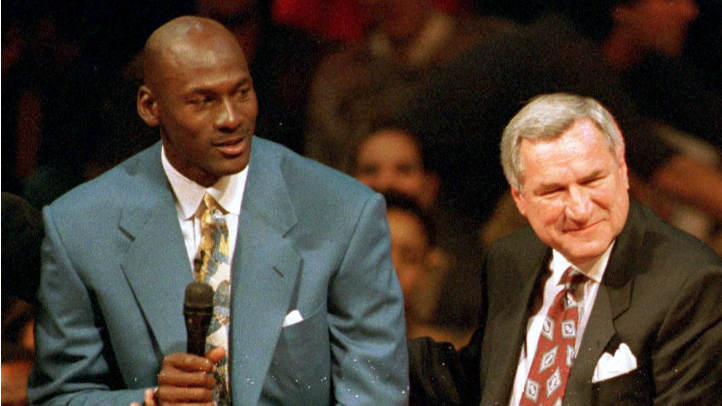 Items being associated with or belonging to Michael Jordan continue to find their way to auction houses. First it was his Highland Park mansion. Then it was a pair of his Air Jordan sneakers he wore in the NBA Finals.
Now it's a recruiting letter sent to him by Dean Smith, the Hall of Fame and head coaching legend at the University of North Carolina.
Jordan hit the game-winning shot to help the Tarheels beat Georgetown – led by Patrick Ewing – in the 1982 NCAA Championship game. But before that, he was just a skinny kid from Wilmington, N.C. on the radar of one of the greatest coaches ever.
The letter reads:
Dear Michael,
Our staff surely enjoyed visiting with you and your family there at your beautiful home. It was a delightful evening and one which we were able to use to get to know you better. Hopefully you felt more comfortable with us and that you will consider the University of North Carolina for your college education.
If there are any questions which came up following our departure, please give me a collect call and I will be happy to discuss them with you. Otherwise we may give you a follow-up call before too long just to touch base.
We do think you are a tremendous young man and are impressed not only with your obvious basketball talent but the way you have been a leader at school and done well academically. We look forward to following you closely this year and hope to see you frequently in Chapel Hill.
I am writing your parents separately since they were so very hospitable to us. Enjoyed seeing you, Michael, and hope that beginning in September 1981 I can be your coach.
Most sincerely,
Dean E. Smith
Dated: Aug. 12, 1980
Goldin Auctions has opened the bidding for the letter at $5,000.