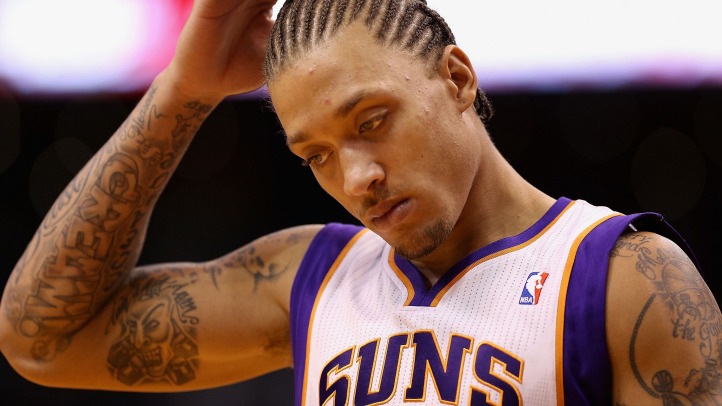 Once upon a time, a debate raged prior to the 2008 NBA Draft on which player the Chicago Bulls should spend their No. 1 overall pick on: Kansas State stud Michael Beasley or Memphis' Derrick Rose, who was also a Chicago kid. It's safe to say the Bulls made the correct decision.
On Tuesday, Beasley was waived by the Phoenix Suns – his third team since being taken No. 2 overall by the Miami Heat in 2008.
Beasley has had numerous off-court issues since coming into the NBA, essentially starting from day one. In September '08, Beasley was fined $50,000 by the Heat for his involvement in an incident that took place at the NBA's Rookie Transition Program.
Almost a year later, he checked himself into a Houston rehab center. In June 2011, he was fined and ticketed in Minnesota during a traffic stop after police found marijuana in the car he was driving. And just last month, Beasley was again stopped by Phoenix police in a traffic stop and was arrested after marijuana was once again found in his car.
So when a local writer pens an article suggesting the Bulls give the clearly troubled Beasley a look, it does more than elicit an eyebrow raise. It also enhances the "desperate Bulls fan" stereotype that has become so pervasive in Chicago since the summer of 2010.
Obviously, the goal for the Bulls is to get past the Miami Heat in the Eastern Conference and contend for an NBA Championship in the Finals. But bringing aboard a miscreant like Beasley – no matter his talent or potential – is never the answer. The Bulls are an organization that traditionally likes to have character guys who are also winners in their employ.
Michael Beasley doesn't fit either description.
He is an exceptional NBA talent with an uncanny ability to be a lethal offensive threat when focused. But focus has consistently been an issue for the now 24-year-old who was supposed to have just as bright a future in the game as the guy taken one spot ahead of him.
Sure it may be intriguing to take a look at such a young and obviously talented player who happens to be available on the open market, but the fact that such a young and talented player is even on the open market in the first place is a clear sign of trouble; trouble the Bulls would be better off not getting themselves into, no matter the perceived reward "if" things do work out.
There's obviously a reason why a former No. 2 pick in the NBA Draft has been on three teams in his first five years in the league. A reason that shouldn't be ignored by even the most desperate of Bulls fans.