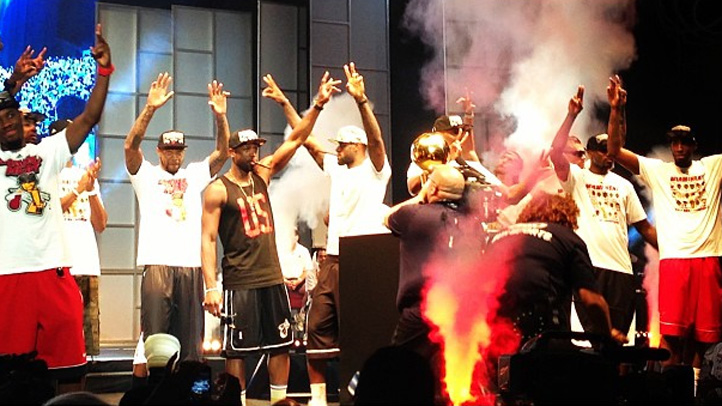 The Chicago Bulls' chief rival, the Miami Heat, didn't make a whole lot of significant moves in the offseason, unless of course you count re-signing Chris "Birdman" Anderson, letting Mike Miller walk as a free agent and adding former No. 1 overall pick Greg Oden who hasn't played in an NBA game since December of 2009.
The Heat pretty much stood pat and will rely on the core of LeBron James, Dwyane Wade and Chris Bosh to carry them to a fourth consecutive NBA Finals appearance and third straight NBA Championship.
The 2013-14 NBA season will be filled with plenty of intrigue from both conferences, but even more intriguing will be what Miami will do if the team doesn't win another title. The team's three biggest stars can all opt out of their deals next summer, but Chicago native D. Wade doesn't foresee that happening.
"I have no reason to believe anything else," Wade told the Miami Herald in a recent interview. "We all love it here. We're all committed to compete for many, many years to come. Obviously, the business side will take over at one point."
But it seems the business side has already taken over.
As the new, harsher collective bargaining agreement kicks in this season, teams will be forced to become more cost conscious than ever. Last season, the Heat paid a luxury tax bill of approximately $13.35 million – that's nearly $10 million more than the Bulls who paid the luxury tax for the first time in franchise history – but that was under the old CBA which imposed a dollar-for-dollar penalty for any team over the cap.
If the new agreement were in place last season, Miami would've had to pay $33.38 million to the league. Despite have the world's best player and collectively, three of the biggest stars in the game, not even a small market team like the Heat wants to fork over that kind of cash year after year, which explains them being quiet in free agency this summer.
Right now, Miami has $83 million committed in salary for next season, with the tax level being set at $71.75 million. If nothing changes, the Heat would be on the hook for a tax payment of $28.13 million at the end of the season. So yes, this season could be the last for the Miami Heat as we currently know them, but for Wade, the team has bigger worries.
"It's going to be tough because we're walking into uncharted water. Trying to muster up the motivation to try to win another championship. We understand the competition will be high. It will be very intense … You see a lot of teams in the league just trying to get better. Right now, we're the standard. We've won two in a row. Teams are putting teams together to try to stop that. It was a great summer for the NBA."