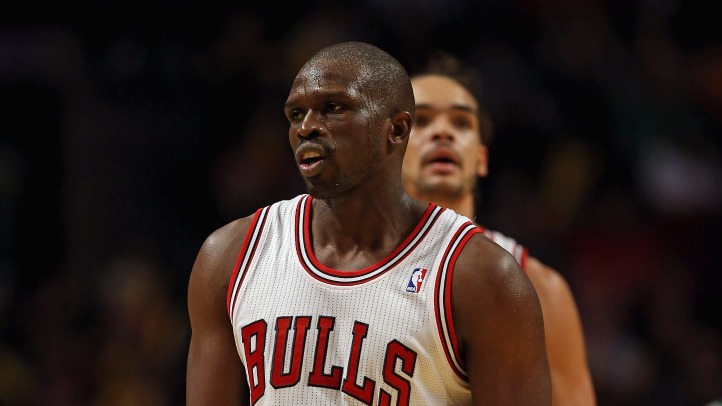 In a season where injuries and playing shorthanded has become almost the central theme of the Chicago Bulls' campaign, it should come as a surprise to no one that Luol Deng will likely be out for as long as the Bulls can stay alive in their series against the Miami Heat.

The All-Star still hasn't recovered from the spinal tap he received before Game 6 of the Brooklyn Nets series and hasn't been able to get through a full practice since.
"I'm okay. Just trying to get back in the rhythm of things. It's not as bad as it was before. Just trying to practice. I did some individual work yesterday and I started throwing up a little bit. I couldn't finish the workout," Deng told CSN Chicago on Sunday. "I tried to practice with the team today and the same thing. My body, my system is not reacting well to anything I'm doing right now."
Deng said he lost 15 pounds as a result of his medical procedure but says he has gained back two pounds since then. Regardless, he's still not ready to play even though he wishes he could give the team something, anything.
"Even if I could give five or 10 minutes or whatever out there to give these guys a little break. But I can't even get through a regular warmup," he said.
"I want to be out there on the bench at least. But I'm coughing so much I don't want to be out there the whole time coughing and not standing up," Deng said. "But I'm in the United Center cheering for guys. It's tough, man. It's been a long season. Being there and not being out there with the guys is frustrating."
Normal 0 false false false EN-US JA X-NONE /* Style Definitions */ table.MsoNormalTable {mso-style-name:"Table Normal"; mso-tstyle-rowband-size:0; mso-tstyle-colband-size:0; mso-style-noshow:yes; mso-style-priority:99; mso-style-parent:""; mso-padding-alt:0in 5.4pt 0in 5.4pt; mso-para-margin:0in; mso-para-margin-bottom:.0001pt; mso-pagination:widow-orphan; font-size:12.0pt; font-family:Cambria; mso-ascii-font-family:Cambria; mso-ascii-theme-font:minor-latin; mso-hansi-font-family:Cambria; mso-hansi-theme-font:minor-latin;} Follow Outside Shot on Twitter (@Outside_Shot) for more Bulls news and information