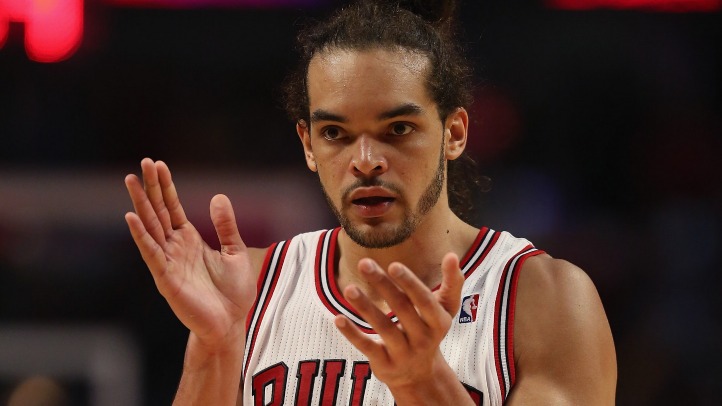 The Chicago Bulls have one shot at extending their season on Wednesday night when they're in Miami for Game 5 of their series against the Heat, but it doesn't look good. Only eight times has a team come from behind 3-1 to win a series in the NBA, and even after their disappointing performance in Game 4 on Monday night, these Bulls still haven't given up hope despite history not being on their side.
"You never know when that beautiful story is going to happen. Down 3-1, you never know," said Nate Robinson after the Game 4 loss. "Take them to Game 7, we end up winning. It's going to be a beautiful story to tell my kids one day, so we don't count ourselves out. Never that. We're going to bounce back and get ready for the next game."
The Bulls will have to play that next game shorthanded once again. Of course, Derrick Rose is out, Kirk Hinrich is probably out as well, and Luol Deng didn't even make the trip to Miami. After a locker room that looked tired and fatigued on Monday, that doesn't bode well in a game where their backs are against the wall.
"We've got to play with that dog mentality now. I look forward to playing on the road. It's us against the world," said Taj Gibson. "That's the way you have to feel, us against the whole state of Florida. We've got to go in there and get a win. We've done it. Teams have [come back from 3-1] in history."
"You've got to take it one quarter at a time. You can't try to hit a home run," said veteran guard Rip Hamilton. "You can't go in and say we've got to win three games. You've got to say you'll take the first quarter and the next and then you'll be all right. You talk three games and you put too much pressure on yourself."
Game 5 tips off Wednesday night at 6 p.m.
Normal 0 false false false EN-US JA X-NONE /* Style Definitions */ table.MsoNormalTable {mso-style-name:"Table Normal"; mso-tstyle-rowband-size:0; mso-tstyle-colband-size:0; mso-style-noshow:yes; mso-style-priority:99; mso-style-parent:""; mso-padding-alt:0in 5.4pt 0in 5.4pt; mso-para-margin:0in; mso-para-margin-bottom:.0001pt; mso-pagination:widow-orphan; font-size:12.0pt; font-family:Cambria; mso-ascii-font-family:Cambria; mso-ascii-theme-font:minor-latin; mso-hansi-font-family:Cambria; mso-hansi-theme-font:minor-latin;} Follow Outside Shot on Twitter (@Outside_Shot) for more Bulls news and information