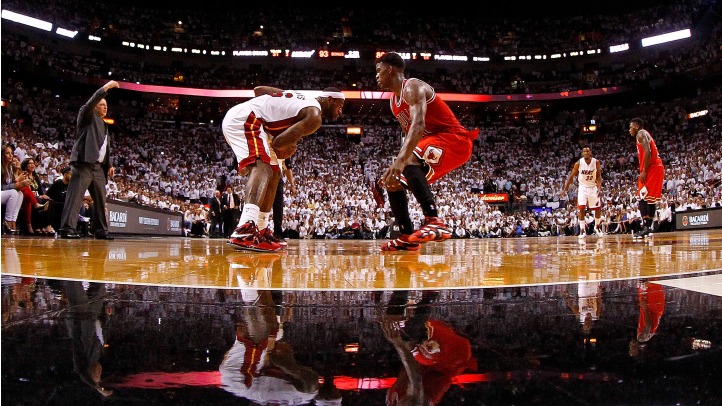 It's only mid-August, about six weeks away from the start of NBA training camp, but rosters have pretty much been set around the league and projections on where teams will finish in their respective conferences have already begun to come out.

ESPN this week released its forecast in the Eastern Conference and ranked the Chicago Bulls No. 2 behind the Miami Heat and in front of the Indiana Pacers at No. 3 and the Brooklyn Nets – who added Kevin Garnett and Paul Pierce this summer – at No. 4.
Of course, ESPN isn't the final say, but their opinions carry weight and if nothing else, it gets people's attention and gets them talking. Take Kobe Bryant for instance.
His Los Angeles Lakers were projected to finish 12th during the 2013-14 season which of course means they would miss the playoffs. Bryant continues to rehab from a torn Achilles but insists he is way ahead of where mere mortals would be had they suffered the same injury.
To the No. 12 ranking Bryant tweeted, "12th I see…"
But bringing it back to the Eastern Conference, now that Derrick Rose is back, are the Bulls really legitimate threats to keep the Heat from a three-peat? At least one Miami Heat blog thinks so.
Hot Hot Hoops published this article on Wednesday: Could a healthy Chicago Bulls team be better than the Miami Heat? After three consecutive NBA Finals appearances and two consecutive championships – and knocking off Chicago in the playoffs two of the last three years – it seems strange that a blog dedicated to the defending champs would consider the Bulls an actual threat.
The Bulls are certainly a solid team on paper with Rose, up-and-comer Jimmy Butler, veterans in Luol Deng, Joakim Noah, Kirk Hinrich and Carlos Boozer, and the addition of Mike Dunleavy and rookie Tony Snell who many feel can actually make a contribution this season if given minutes. Plus, we can't forget that Marquis Teague should be considerably better in his second season, veteran Nazr Mohammed still has something left in the tank, and perhaps even rookie Erik Murphy can contribute here and there.
Obviously the Heat still have LeBron James, the best player in the world right now, but an aging Ray Allen and Dwyane Wade – who is oft-injured as well – a statistically declining Chris Bosh and no major free-agent acquisitions over the summer, it would seem that again, on paper, Chicago has a much better team than Miami.
So could this be the year that Chicago finally overcomes Miami? Well, if the team can somehow avoid – or at the very least, limit – any major injuries to key players, they certainly have as good a chance as any team in the Eastern Conference.