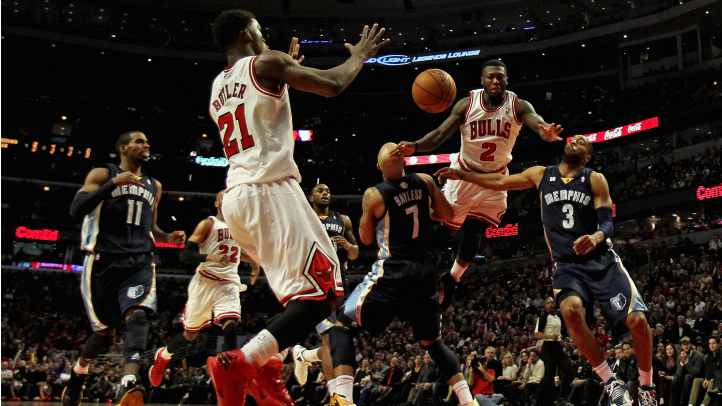 The Chicago Bulls continue to have trouble winning four consecutive games in a row this season. They missed a chance to break the cycle Saturday night against the Memphis Grizzlies. A very good chance too. During their third consecutive overtime game, the Bulls' bid for four in a row fell just short as Memphis prevailed, 85-82.

Granted the Bulls were missing their offensive and defensive anchor Luol Deng, who was out with a re-injured hamstring. However the "next man up," reserve swingman Jimmy Butler, got his first career NBA start and he did not disappoint.

But it was not enough.

Tom Thibodeau made personnel decisions down the stretch, and into overtime, which raised a few eyebrows. His decisions also cost the Bulls a game they could have, and quite frankly, should have won.
The Good
Although he turned it on late, the Bulls suffered no offensive and rebounding drop of in the absence of Luol Deng. Jimmy Butler (18 points, eight rebounds, three assists) did a marvelous job playing almost the entire game. He essentially canceled his counterpart, Memphis' Rudy Gay, out of the game and took advantage of the opportunity to showcase his talent. Carlos Boozer (17 points, 14 rebounds) kept his double-double streak alive, although for a while it seemed like it would come to an end. Nate Robinson (11 points, four rebounds, five assists) and Taj Gibson (10 points, 12 rebounds, four blocks) were solid for the Bulls off the bench.
The Bad
Chicago couldn't stop Memphis on the glass as Zach Randolph grabbed 19 rebounds in the game. There were several possessions where the Bulls just could not come up with rebounds and as a result, Memphis was a +6 in second-chance points (20-14). The Grizzlies also had a +6 advantage in points in the paint (46-40) and completely dominated the Bulls in the open court, scoring 21 fast break points to Chicago's six.
The Ugly
Tom Thibodeau is an excellent coach, but sometimes his understanding of the concept "fatigue" is questionable. Butler and Boozer logged minutes the equivalent of a regulation NBA contest. After subbing Joakim Noah (10 points, five rebounds) with just under six minutes to go in the third quarter, for whatever reason, Noah never saw the court again. Thibs rode with the same lineup (Butler, Boozer, Gibson, Robinson, Belinelli) from midway through the third quarter, all the way until the final buzzer sounded at the end of overtime. Fatigue – after playing three-straight OT games – had clearly set in and that was the difference in the ball game.
Follow "Outside Shot" on Twitter (
@Outside_Shot
) for more Bulls news and information.