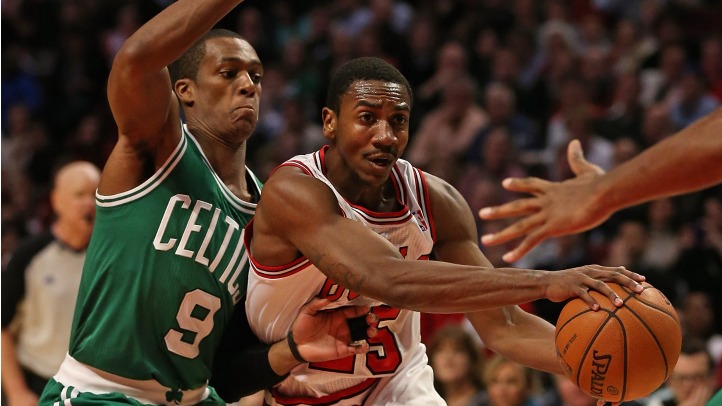 Under Tom Thibodeau, rookies play sparingly. They don't usually get meaningful minutes in big games against good teams.
That's not what happened Monday night against the Boston Celtics as Thibs went with rookie point guard Marquis Teague for the entire fourth quarter as the Bulls were making a run to try and steal the win. All in all, Teague played 18 minutes in the game – a season high – and scored five points, dished out three assists to just one turnover.
The minutes for Teague came out of necessity because of the latest injury to Kirk Hinrich. Thibs could've easily gone with Nate Robinson down the stretch, but his decision to play the rookie is a sure sign that we may not be seeing Hinrich for a while.
"He played hard. That's the first step," said Thibs during his postgame presser. "I liked the way he matched up with the speed of Barbosa and Rondo. They're super quick and I like that matchup for Marquis. He got us playing with energy. He used his speed and quickness to extend our defense a bit."
Doc Rivers praised Teague after the game as well.
"He played terrific; he played with good speed," said the Celtics head coach. "The one thing you love about Thibs is he left him out there, which I thought was terrific. I thought he was responsible in a lot of ways for bringing them back."
For his part, Teague was just happy to get an opportunity to play.
"I was happy I had the opportunity to go out there and compete," Teague said. "At the end of the day I want to get the win. I wasn't nervous. I play against my teammates every day and they're just as good as anybody in this league. I'm comfortable out there. I'm a basketball player and I'm ready to play against anybody."
It's ironic that his first chance to play in a meaningful game came against a fellow Kentucky alum, NBA All-Star and future Hall of Famer in Rajon Rondo. The Celtics point guard also had good things to say about Teague, but that's as far as he was willing to go.
"It's good confidence for a young guy to be playing in a game you have to win," Rondo said. "It shows that Thibodeau has a lot of confidence in him and he's a good player."
When asked if he'd shared anything with his fellow Kentucky Wildcat on how to make it at this level, Rondo just smiled and said, "Nah, I can't give him anything right now. You know, if he was my teammate I could, but he's not, so I can't."