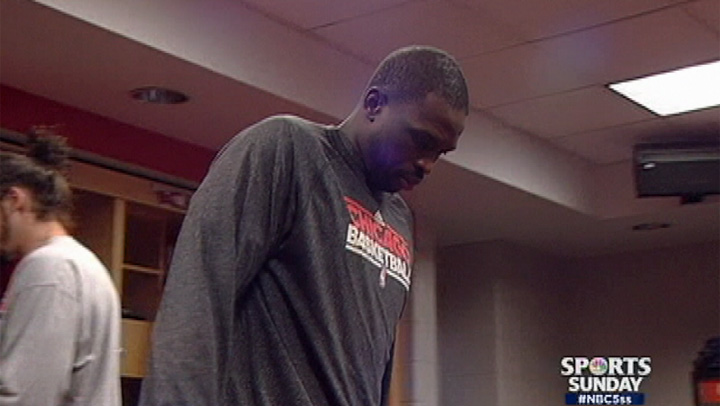 Chicago Bulls All-Star Luol Deng is in Ghana this week to help teach children in the West African country about basketball. While there, he sat down for an interview with NBA Africa reporter Pawel Weska to talk about the purpose of his visit, last season with the Bulls and, specifically, the spinal tap procedure that effectively ended his season while the Bulls were still battling in the playoffs.
"The end of the season was disappointing," Deng said. "I worked hard all season, played in the All-Star, and wanted to take the team as far as possible in the playoffs. But then, when I got sick, I think that we could have handled the situation better."
Deng, and other players on the team, had become severely ill with flu-like symptoms prior to Game 6 of Chicago's first round series with the Brooklyn Nets. After receiving IV's to no avail, he was transported to the hospital where it was thought that meningitis was the cause of his illness, so a spinal tap was performed.
Unfortunately, Deng's body didn't react well to the procedure and in addition to dropping 15 pounds in 10 days, complications from the spinal tap landed him back in the hospital a few days after he was initially released. He would miss the rest of the series with the Nets in the first round and all five of the games in the Bulls series with the Miami Heat in round two.
"Obviously there are some things that you can't handle. You can't really handle getting sick, being taken to the ER or going to the hospital," he explained. "I got the spinal tap and that's where it went all wrong. My body didn't react well to the spinal tap, I had some serious side effects that not only didn't allow me to play basketball, but really put my life in danger.
"It's something that I wouldn't want anyone to go through, but when I went through it, I think that basketball became second – especially that because what I went through health wise, my family was very worried. I never want to experience something like that again."