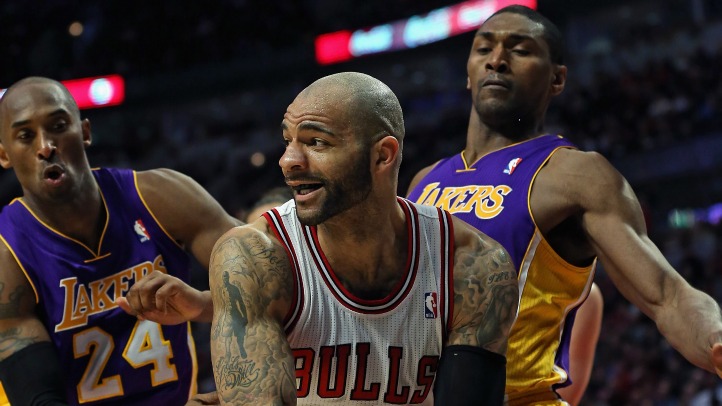 The Los Angeles Lakers shouldn't be considered an "easy win" for any team in the NBA, but for one of the winningest franchises in the NBA, the 2012-13 has been nothing short of a disaster. What appeared to be a dominating squad featuring the likes of Kobe Bryant, Dwight Howard, Steve Nash and Pau Gasol, has been reduced to nothing more than a speed bump for teams who have the Lakers as an opponent.
On Monday night, it was the Bulls' chance to get a crack at the Lakers and see how they fared against a team that has won a total of two games since New Years Day. Yes, you read that correctly: two games. The Bulls added to the Lakers January struggles by defeating them 95-83 in front of a sell-out crowd at the United Center.
The Good
The calendar says the year is 2013, but Kirk Hinrich (22 points, 7 rebounds, 8 assists) seemed to turn back the clock to 2006-07 with the way he performed against Los Angeles. He was very efficient going 9-11 from the field and turning the ball over just once. It was the best game he's had wearing a Bulls uniform in quite some time. Joakim Noah (6 points, 13 rebounds, 6 blocks) responded well to his benching on Saturday night and he played with great energy and was very active in the game and had a season-high in blocks. Marco Belinelli (15 points) was great off the bench, as was Nate Robinson (11 points). Additionally, Jimmy Butler (10 points, 8 rebounds) was excellent in the second start of his NBA career, especially when you consider the job he did on Kobe Bryant, forcing him to shoot just 7-22 from the field in the game. The Bulls also did a great job of taking care of the ball, committing just eight turnovers in the game,
The Bad
Carlos Boozer's (14 points, 6 rebounds) five-game streak of notching a double-double came to an end on Monday night. The Lakers were also a +10 in the rebound margin (50-40).
The Ugly
There wasn't really much to complain about with the Bulls against the Lakers, but if you had to pick something, perhaps individual shooting numbers is a good place to start. Rip Hamilton (13 points) was just 6-18 from the field and Taj Gibson (4 points, 1 rebound) was 2-8 as was the aforementioned Noah. Boozer didn't shoot the ball particularly well either, going 7-17.
Follow "Outside Shot" on Twitter (@Outside_Shot) for more Bulls news and information.