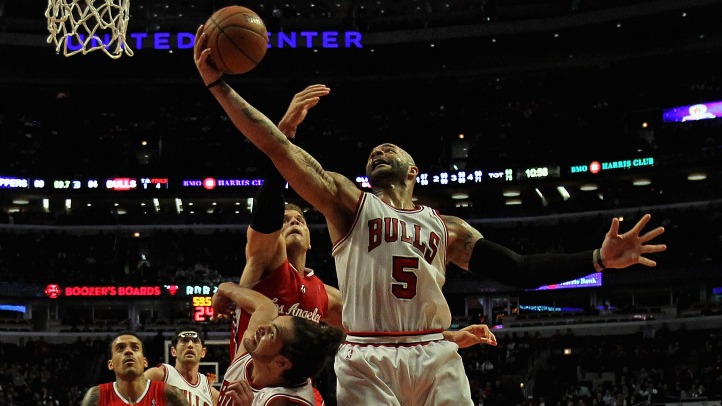 Cheer up, Bulls fans. I know the 94-89 loss to the Los Angeles Clippers on Tuesday broke the team's three-game winning streak, but there are still things to be pleased with.
The team didn't get blown out this time like they did during the "Circus Trip" last month, they played hard and are still two games above .500, and if you like dunks and alley-oop plays, then you came away thoroughly entertained by the show that Chris Paul and the "Lob Angeles" Clippers put on at the United Center.
The Bulls succumbed to an overall lack of talent and depth to match up effectively with the Clippers, and it was a game no one really expected Chicago to win anyway. It was one of those contests where you didn't come out to watch a Bulls victory, you came out to watch the aerial show that is the Clippers.
The Good
Carlos Boozer (24 points, 13 rebounds) and Joakim Noah (10 points, 11 rebounds) did a good job of canceling out the Clippers' frontcourt attack of Blake Griffin (22 points, 10 rebounds) and DeAndre Jordan (7 points, 10 rebounds). Marco Belinelli (18 points, seven rebounds, five assists) continued his strong play since being inserted into the starting lineup for the injured Rip Hamilton, and Taj Gibson (10 points, six rebounds) finally broke into double-digit in scoring after four-straight games. The Bulls outrebounded the Clippers 50-42, dominating on the offensive glass (18-11), and also shot 50 percent from behind the three-point line, making 10 of their 20 attempts.
The Bad
Kirk Hinrich did start after sitting out the second half of the Bulls' last game with an injury to his elbow. He scored eight points in the game and did make both of his three-point attempts but had a very difficult time containing Chris Paul (18 points, four assists, three steals) who scored the "dagger" basket on Kirk late in the game. Los Angeles also dominated points in the paint (50-38) and got to the charity stripe more often, taking 23 free throws to Chicago's 12.
The Ugly
Luol Deng (8 points, seven rebounds) struggled from the field, shooting just 3-14 in the game, and Belinelli, despite his 18 points, shot just 6-22 in the game. As a team, Chicago shot just 40 percent from the field. The Clippers also dominated the Bulls in bench scoring to the tune of 34-21.
Follow "Outside Shot" on Twitter (@Outside_Shot) for more Bulls news and information.