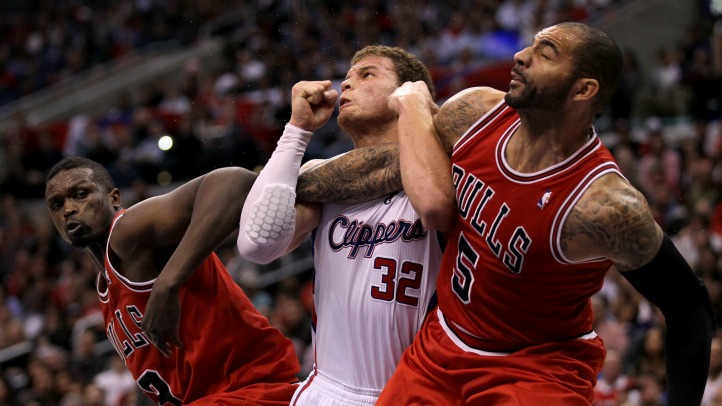 The Phoenix Suns weren't supposed to be a tough opponent for the Chicago Bulls, but they were. After a disappointing loss to the Boston Celtics at home, it was expected the team would take it out on Phoenix who did an admirable job of trying to defend their home court.
But the Bulls got the win and are 1-0 in their annual "Circus Trip." Now they move to Los Angeles to face the Clippers Saturday night and a familiar face in former head coach Vinny Del Negro.
Unlike the Suns, the Clippers are now considered an elite NBA squad with the likes of Chris Paul and Blake Griffin. And they've gotten even better thanks to the emergence of center DeAndre Jordan and the improved play of backup point guard Eric Bledsoe. But when you factor in the acquisitions of former Bulls guard Jamal Crawford, ex-Lakers Lamar Odom and Matt Barnes, combined with the veteran savvy of Caron Butler and the leadership -- in a suit, of course -- of Chauncey Billups, the Clippers are a downright dangerous and scary team to go up against.
So far, against the NBA's elite, the Chicago Bulls are 0-2 with losses to the Oklahoma City Thunder and the aforementioned Celtics. Last season, the Bulls defeated the Clippers at the Staples Center in their only meeting of the season, but that was with Derrick Rose.
This time, Paul, arguably the best point guard in the NBA, will have to contend with an injured Kirk Hinrich guarding him, and Tom Thibodeau will have to be creative in devising a scheme to stop his dribble penetration which creates easy looks for his teammates.
The Clippers don't run a whole lot of plays as Del Negro isn't the greatest offensive mind in basketball, but they do run a ton of pick-and-roll with Chris Paul and his athletic bigs in Griffin and Jordan and it's easy to see why they've been dubbed "Lob City."
And coming off a Wednesday night victory over the defending champion Miami Heat, the Clippers will surely be riding that wave of momentum. Can the Bulls get their first victory over a title contender? We'll find out this weekend.