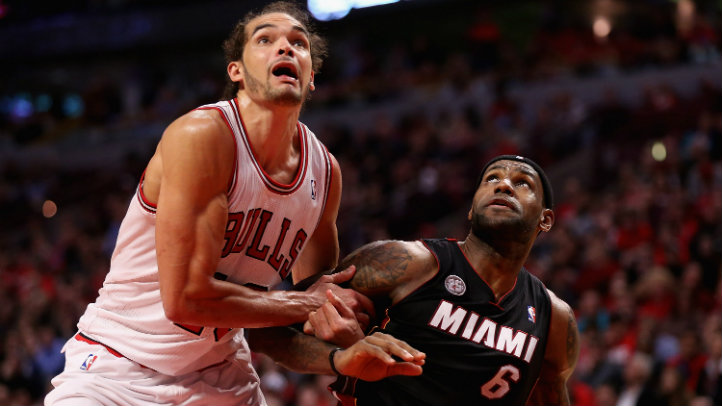 Derrick Rose coming back to the basketball court has given many reason to believe that the Chicago Bulls will once again be a force to contend with and have a legitimate shot at an NBA title. But does it all hinge on the play of D. Rose?
According to a recent Yahoo! Sports article, it doesn't. The Bulls' path to a seventh NBA championship will require more offensive production from Joakim Noah. But is that an accurate assessment?
"Imagine if Noah took just one move, a drop-step or jump-hook, and perfected it to the point that it became money almost every time he let it go. Imagine if that was something for which other teams had to game plan. With Derrick Rose and Luol Deng the primary scoring options, he would not be asked to score often. But if only the threat of Noah consistently scoring existed, that alone would do wonders for the dynamics of Chicago's offense, which ranked next to last in the NBA."
Even with Derrick Rose on the court, the Bulls under Tom Thibodeau have never employed an offense that generated a lot of points. Yes, Chicago was 29th out of 30 teams in scoring last season, but the team's best offensive ranking under Thibodeau -- Rose's MVP season -- saw the Bulls finish 18th in offense before going on to lose 4-1 to the Miami Heat in the Eastern Conference Finals.
The article cites how the Indiana Pacers and San Antonio Spurs took the Heat to the brink of elimination in seven games due to the low-post scoring presence of Roy Hibbert and David West of the Pacers and Tim Duncan and Tiago Splitter of the Spurs.
As it relates to the Pacers, from an offensive standpoint, the 2012-13 squad was actually worse (23rd out of 30) than Chicago was in 2010-11. Additionally, Hibbert, offensively, is on par with Noah, but he is a much worse rebounder and only a slightly better shot blocker. It's also worth noting that in the case of the Spurs, Tim Duncan is a first ballot Hall of Famer. Not exactly a fair comparison there.
However, when it comes to limiting their opponents in scoring, under Thibs, the Bulls have finished no worse than third and they've finished with the best overall record in the league two of the last three seasons. That's how Chicago plays basketball. It's also how they win and established themselves as one of the NBA's elite.
Yes, it's widely understood the team could stand to use some more offensive production, and yes, Miami is still the team to beat in the NBA and scoring a few more points against them couldn't hurt. But as the mantra goes, defense wins championships (the Heat proved that two years in a row). And when it comes to defense, that is the true value of Joakim Noah – along with rebounding – not his offense.