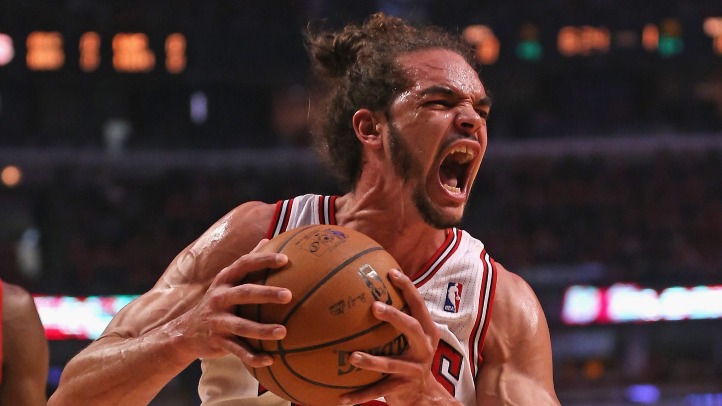 For better or worse, the Chicago Bulls have had a reputation in the past for playing to the level of their competition. But when it comes to the Miami Heat, the Bulls always give their best fight and effort.
That fight and effort was apparent in their 107-87 victory on Thursday night at the United Center.
Joakim Noah led the way with his energy and hustle on the glass, finishing the game 17 points and 15 rebounds, and admitted that lining up against Miami was enough to get the team fired up and focused on earning a much needed win; not only for themselves, but for the city as well.
"I think for the people in this city, there's something about when Miami comes to town. You wake up in the morning and you just feel it. You feel people in this city, they don't like [the] Miami Heat," Noah said. "We don't like the Miami Heat. It always feels good to beat them."
The Bulls have been very successful against the Heat during the regular season, but it's been the playoffs where Chicago has been unable to get over the hump, and it's the main reason Noah says the two teams don't like each other.
"A lot of battles," he said. "A lot of scars, a lot of tough losses, a lot of seasons ending because of them."
After struggling since Derrick Rose went down to injury, Noah feels the win over their chief rival in the NBA may be enough to snap them out of their recent funk.
"We just got to keep it up," he said. "I think we've been through a lot with a lot of guys in this group. We've been through a lot of adversity, a lot of battles together, and we know we're battle tested."