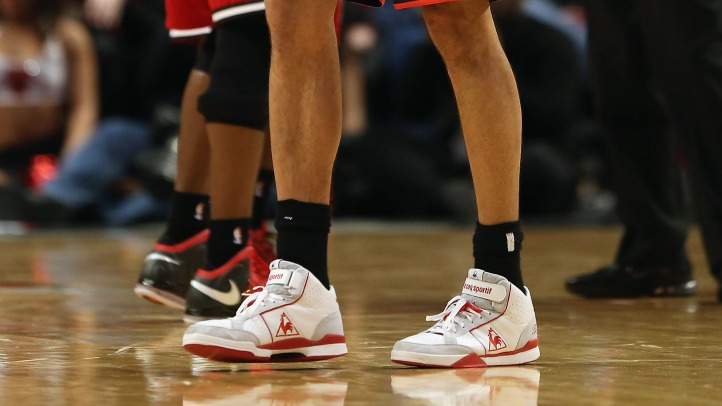 Joakim Noah has been battling plantar fasciitis in his feet going back a few years now. He's already missed several games this season with the ailment and was forced to miss the Bulls' trip to Minnesota Sunday as the condition flared up again.
Essentially, the All-Star center has been dealing with plantar fasciitis all season and despite how well he's been playing, the issue is quite the hindrance. I'm of the opinion that Noah's problems begin and end with his choice of sneakers.
Le Coq Sportif is the French company that makes the shoes that Noah currently wears. The relationship stems from his father, former tennis great Yannick Noah, who is of French descent and has been associated with the brand for 25 years now. Typically, the company makes shoes suitable for tennis and casual wear; however, this is their first foray into the world of professional basketball.
Because of his heritage and the brand's relationship his father, it's understandable why Noah would choose to wear Le Coq Sportif sneakers. But it's worth noting that his plantar fasciitis issues didn't start until he got to the NBA.
When he played college basketball at Florida, Noah wore Nike sneakers and had no such issues with his feet. When it comes to professional athletes, the shoes they wear are contractual. But as long as he continues to have these issues with plantar fasciitis, perhaps it's time for Joakim to look around at other brands and ditch the roosters. Just a thought.
Follow Outside Shot on Twitter (@Outside_Shot) for more Bulls news and information.