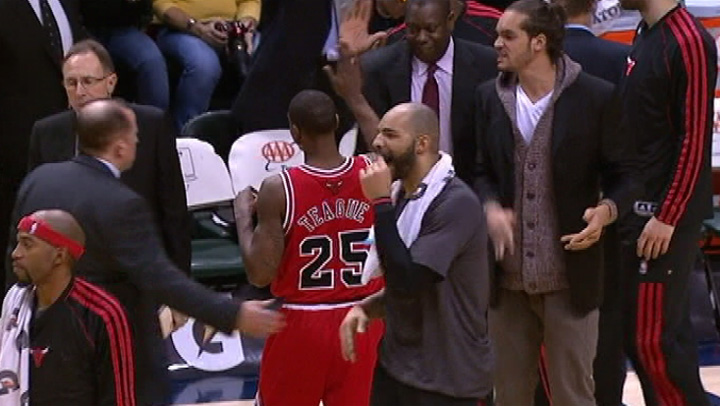 Joakim Noah missed his third straight game on Monday night against the Indiana Pacers as he once again deals with the plantar fasciitis issues that have slowed him before in his career. But even when he's not playing, he's a fixture on the bench and can be seen on the sidelines supporting his teammates.
Monday night was no different until someone from the NBA approached him about his wardrobe and told him that it was inappropriate dress for the sidelines.
"I don't even know, really," Noah told ESPN Chicago. "They told me I wasn't dressed appropriately so I changed."
The articles of attire in question appear to be a sweater and v-neck T-shirt beneath a sport coat. The NBA's dress code stipulates that a player not in uniform must dress in "business or conservative attire" while arriving or departing during a scheduled game or on the bench when injured.
Why Noah's sweater was an issue is a mystery as it certainly qualified as "conservative," but the big man complied and changed clothes, returning to the bench wearing a blue striped shirt and blue blazer, most likely borrowed from someone on the team.
Follow "Outside Shot" on Twitter (@Outside_Shot) for more Bulls news and information.