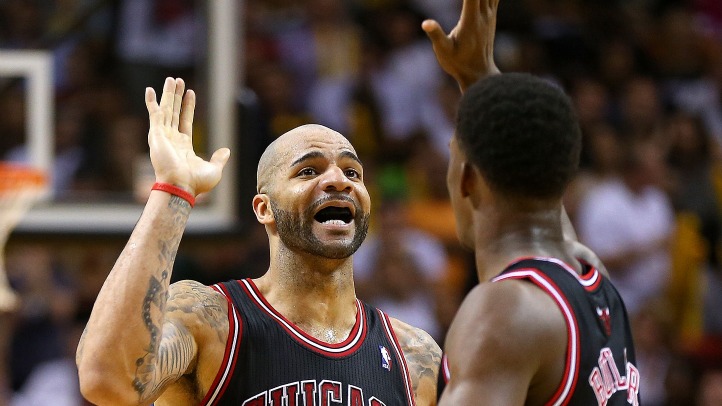 Give the Chicago Bulls some credit. On a downward slope and quickly losing ground in the standings, the team came up with big wins over Central Division rival Indiana as they defeated the Pacers 87-84 at the United Center on Saturday, and playing on back-to-back nights, the Bulls went into Minnesota and knocked off the Timberwolves on Sunday, 104-97. Both games were without Joakim Noah who was sidelined and once again receiving treatment for plantar fasciitis.
Chicago also got some help from the Boston Celtics who dropped their fourth consecutive game as they fell to the Memphis Grizzlies 110-106 on Saturday night. With the Bulls and Celtics once tied in the standings, Chicago now has a little breathing room as they sit two games ahead of Boston and are just a game and a half back of the Atlanta Hawks who are currently in fifth place.
The Bulls have 13 regular season games remaining and have a tough matchup this week as the Miami Heat come to town on Wednesday night trying to extend their impressive winning streak which now stands at 26 consecutive games. They'll host the Orlando Magic on Monday night who are currently on a six game losing streak and that game should bring the Heat to 27 in a row. Miami's last loss came on Feb. 1 against the aforementioned Pacers.
But hopefully the Bulls won't have to face the Heat this week without Noah.
After Miami, Chicago will have an opportunity to put some more distance between themselves and Boston as they'll travel to Dallas to take on the Mavericks on Saturday and then come back and host the Detroit Pistons on Sunday.
Follow Outside Shot on Twitter (@Outside_Shot) for more Bulls news and information.