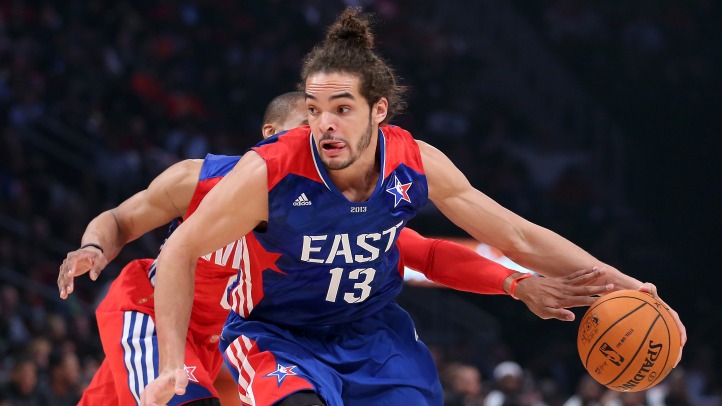 Well, the All-Star break is officially over and it's time for all 30 NBA teams to get back to work. But before we turn the page on the All-Star Game, as fans of the Chicago Bulls we must be pleased with the way the team's representatives performed on Sunday night, particularly Joakim Noah.
In his first ever ASG, Joakim nearly had a double-double with 8 points and 10 rebounds (4-7 shooting from the field) in just over 16 minutes of action. After looking for calls on a few plays – perhaps still mentally in the regular season mindset – and realizing that this would be a game without a lot of blown whistles, Noah began to just play and display facets of his game that not even Bulls fans have seen.
His crossover on Memphis' Zach Randolph immediately comes to mind. His attempt to guard Chris Paul on the perimeter was another memorable moment, along with smacking CP3 in the face when he tried to reach around Jo and steal the ball as the big man dribbled up the court.
All told, Joakim Noah played like a guy who was made to compete in exhibitions like the All-Star Game. Bulls' fans know him for his intensity and fiery passion on the court, but on Sunday night, he appeared to be just out there having fun and it was really good to see.
The Chicago Bulls have gone through a very intense first half of the season and it was refreshing to see the most intense player on the team's roster let his hair down (figuratively) and go out on the basketball court and enjoy himself. Hopefully this won't be the last All-Star Game that Joakim Noah gets a chance to represent the Bulls and the City of Chicago in.
Follow Outside Shot on Twitter (@Outside_Shot) for more Bulls news and information.