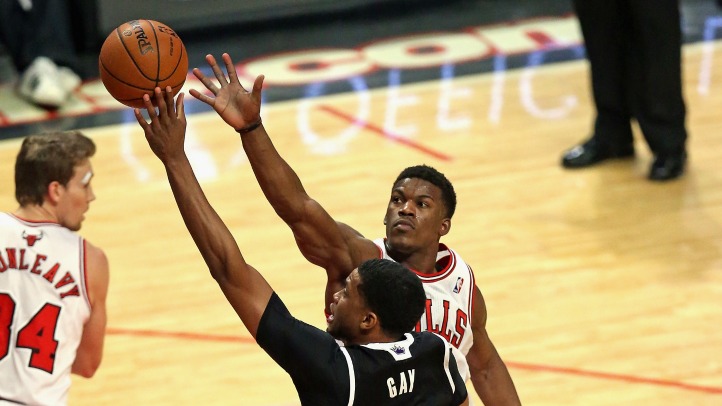 In just three years, Jimmy Butler has emerged from an unknown commodity to the starting shooting guard on a team that has consistently been one of the best defensive teams in the NBA. The Marquette alum typically draws the opposition's best offensive threat on the perimeter and more often than not, makes it a tough scoring night for the player he's matched up against.
Despite an admitted bias, Tom Thibodeau feels Butler deserves, at the very least, to make either the first or second All-Defensive Team this season.
"Well, I'm biased … I don't know if it gets much better than him on the perimeter," Thibodeau said after Sunday's practice at the Berto Center. "There's no off nights. Every team you're facing is going to have a dynamic scorer. Jimmy, I love his demeanor and his attitude. Jimmy is a fierce, fierce competitor and when you're guarding those guys, you can guard them great and they still have the ability to make, and Jimmy's going to keep on coming."
Over the past week, Butler has held LeBron James to 17 points on 8-23 shooting, James Harden to eight points on 2-7 shooting, and Rudy Gay to 13 points on 5-12 shooting. On Monday night, he'll be tasked with slowing down the NBA's leading scorer, Oklahoma City's Kevin Durant, who has scored 25 or more points in 31 straight games. Thibodeau, however, has confidence Butler will be up for the challenge.
"Whatever the challenge is, whatever you ask him to do, he'll do and I know the coaching staff, his teammates, we have a lot of respect for what he does."