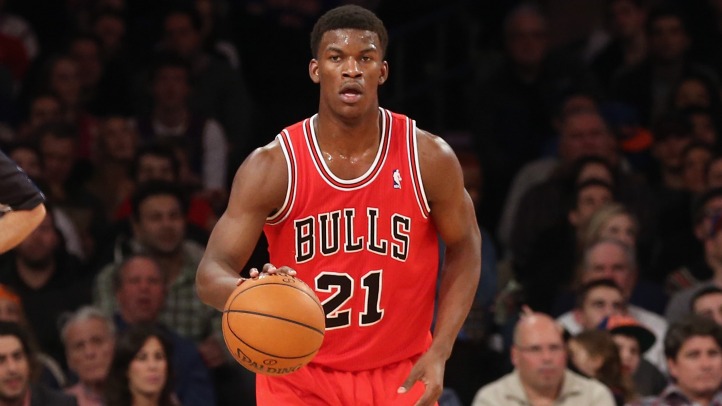 Jimmy Butler joined his Bulls teammates on the road in Cleveland and sat on the bench in Chicago's 93-97 loss to the Cavaliers on Saturday night. Butler has been sidelined during the team's last six games with turf toe, and despite making the road trip, he is no closer to returning according to Tom Thibodeau.
"You have to take it step-by-step, so getting the swelling completely out, that's the first part of it. Then, he has to be able to practice," the coach told CSN Chicago. "Once he can do that, where there aren't any repercussions the next day, we'll go from there; so he's really two steps away right now."
After the Bulls' defeat of the Detroit Pistons last Wednesday, the team returned to Chicago in time for Thanksgiving and then practiced on Friday morning and Butler was thrilled to see his teammates.
"I missed them," Butler said. "That road trip, I got to watch them on TV, but it's different or whatever. I get to see their faces. I had a huge smile on my face this morning, just because I got to see them."
"I want to come back as soon as possible, but I don't know. It just all depends on how my toe is going to take everything I'm doing," he said. "If that's shooting; I'm lifting, pushing off on it, whatever that may be. But I feel like [the Bulls' training staff], they all know what I'm doing to get me back in a timely manner."