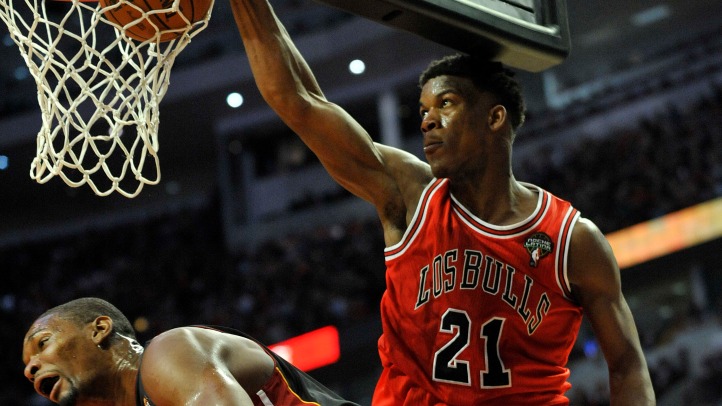 The official 2013-14 NBA schedule has yet to be released, but it would seem the most anticipated game of the season will be the opener between the Chicago Bulls and Miami Heat. D. Rose will finally be back on the court and LeBron James, Dwyane Wade and Chris Bosh will receive their 2012 NBA Championship rings, their second in a row.
In the midst of this celebration, Miami's chief rival will stand there and watch all of this unfold. Or will they?
"I don't think anybody wants to watch that on our team, so we won't pay too much attention to it," said Jimmy Butler on the season opener. "[Miami] deserved it, they won the championship. But they've gotta deal with the Chicago Bulls for 48 minutes coming out right after they get their rings."
It's that kind of attitude that adds to Butler's status as a fan favorite in Chicago. Fans want nothing more than to see the Bulls knock LeBron and Co. off their proverbial throne, and the team's future star understands the rivalry between these two teams goes well beyond the action on the floor and that it's bigger now than it's ever been.
"It's not just us, it's the city. That rivalry is crazy," Butler said. "They're the back-to-back champions, but when you think three-peat, you think Chicago. So we can't let that happen."