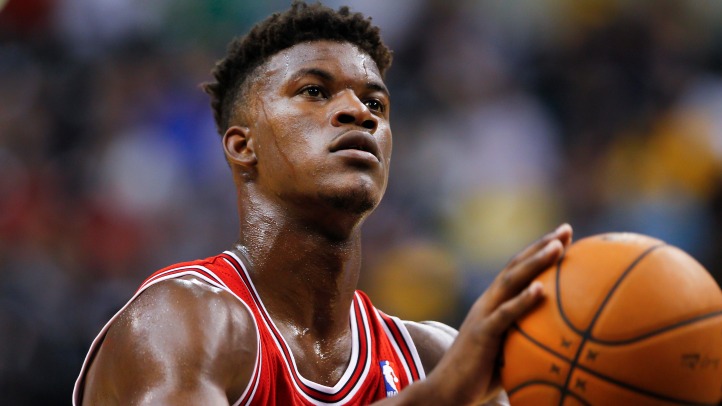 After missing the Bulls' last two preseason games because of a bruised knee suffered in the team's trip to Brazil last week, Jimmy Butler is set to return to the starting lineup on Wednesday night against the Oklahoma City Thunder in Wichita, Kan.
"I feel good, man. I feel like it was just a little rest and a lot of rehab, and I'm feeling back to normal," said Butler in an interview with CSN Chicago after the team's practice at INTRUST Bank Arena. "Let's see how I move and jump off of it. I was still doing a little bit of conditioning, just a little different, not so much running. But I feel like I can still get my wind up there."
As for Kirk Hinrich (concussion) and Joakim Noah (groin), Tom Thibodeau wasn't too pleased about the progress of either player, although Noah's own assessment differed from that of his coach.
"I feel better. I'm just working. In my work, I feel a lot better. I'm going to keep going until I feel comfortable being out there," Noah said. "We evaluate every day. I want to be out there as soon as I can. I just don't want it to linger. I have to be smart. It sucks. There's nothing more that I want than to be out there on the court. It's part of the process. A little groin injury, I have to be smart. I want to be out there as soon as possible to help the team."
Noah also hinted that his injured groin may not have him ready in time for the team's season opener against the Miami Heat on Tuesday.
"It's possible. But I'm not there yet. In my mind, I'm playing," Noah said of Tuesday night's South Beach showdown. "I want to be out there as soon as I can. We'll see when that is."