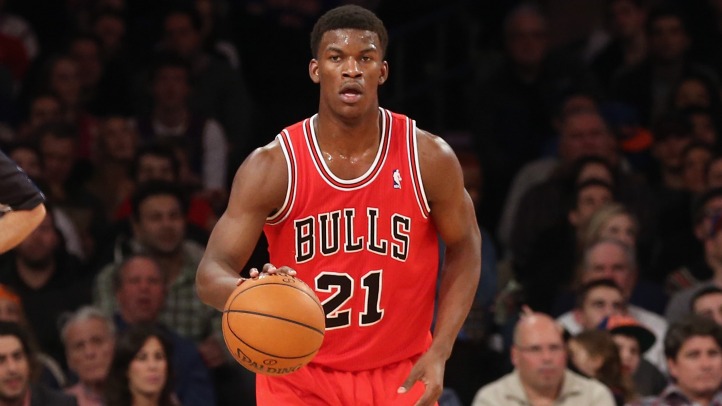 We've talked a lot about Jimmy Butler in this space over the last few days, but that's because the Marquette alum has been one of the more active and accessible players on the Chicago Bulls roster. Typically guys like to lay low during the summer and the only way you even know what they're up to is if you follow them on social media and they post something on Instagram and Twitter.
But not Jimmy Butler. He's been everywhere.
From Lollapalooza and Pitchfork Music Festival to B96 Summer Bash, The Waddle & Silvy Show and the ESPY's. The 23-year-old seems to be enjoying himself not only as an NBA player, but also as the Chicago Bulls starting shooting guard, although he downplays the latter.
"I feel like I'm not a starter yet," Butler said in a recent interview with Bulls.com. "The season isn't here yet and I still need to work my tail off for the rest of the offseason, go into training camp, play hard and do what I'm supposed to do. Coach Thibs and the management will do whatever they think it takes to help us win. Whether that means me as a starter or coming off the bench, whatever it may be, I'm comfortable with it. I just want to win games."
Butler may be enjoying his newfound celebrity – he says he was shocked that actor Jamie Foxx knew his name at the ESPY's – but he is never too far away from the gym to continue working on his game and prepare himself for the upcoming season playing in the backcourt with Derrick Rose.
"I'm working on everything," Butler said. "My game's not perfect in any area, so why stop working on one over another? I'm definitely spending time on my three-point shot, because with Derrick back, teams are going to double team him. So we've got to be able to open the floor for him. I'm working on some mid-post work, for when I'm going up against a smaller two guard or small forward. You've got to be able to score from every point on the floor. And a lot of ball handing, so I can be the secondary ball handler. That's also important."
And speaking of D. Rose, Jimmy Butler says the former MVP will be back to his old self once he returns to the court.
"This is more or less my first year to be able to play with him, so I'm very excited about that," said Butler. "But I don't think our mentality as a team changes at all. It will be even fiercer, if anything. Derrick is back and he'll be himself, a guy that wants to win. He's a winner and that's what he's known for doing. It's huge to have him back and I think we're going to do something special."