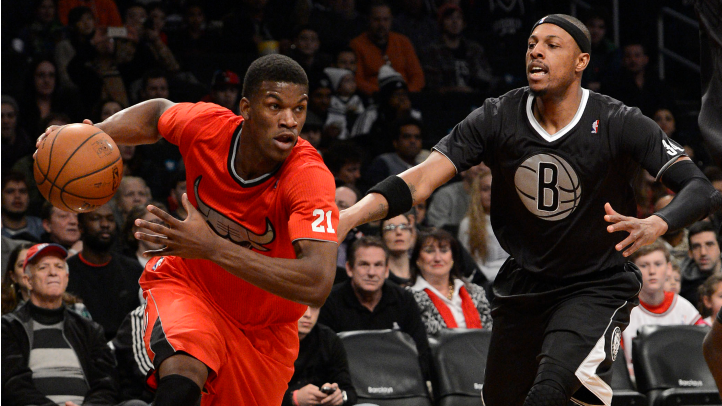 Jimmy Butler took an ugly fall in the second half of the Bulls Christmas Day tilt against the Brooklyn Nets on Wednesday. After outrunning Nets power forward Reggie Evans for a loose ball, Butler raced to the rim and attempted a layup before being fouled and crashing to floor. After the play, he appeared to be in obvious pain.
Butler took his time getting up, but was able to make it to the free-throw line and make his two attempts. After that, the Bulls training staff evaluated him and he was able to return to the game.
In a year where injuries have been the dominant storyline, the Bulls can ill afford to have a key rotational player succumb to injury. But fortunately for Jimmy Butler, he says he was alright and was in good spirits after the game.
"I'm good. I just think my knee gave out and it hurt for a second," he explained. "I just feel like it's kind of unlucky for me the last few weeks."
Butler joked that thankfully, the injury was on the left side of his body and not the right in which he's already suffered turf toe in his right foot and a sprained right ankle.
"It was a great play by Jimmy," said Tom Thibodeau. "It was one of those plays, open floor and a lot of speed involved."
Butler said he thought about world class Jamaican sprinter, Usain Bolt, when he was attempting to outrun Evans and take the ball to the rim for a dunk. But his knee didn't cooperate.
"I didn't think I was actually going to beat him to the ball, then I thought Usain Bolt, maybe speed up a little bit," he said. "But that's what I bring to the game and to this team is hustle plays. I was going to dunk it until my knee gave out. That's the thing that made me mad. I had to throw up that bull-crap layup. Luckily, he pushed me because I was going to miss it. But I was going to dunk that."