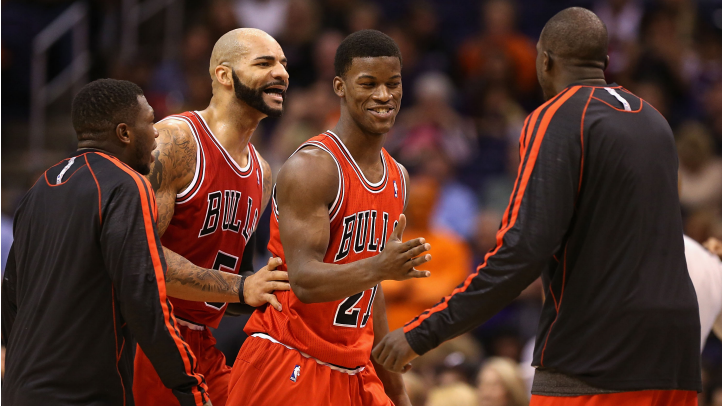 Chicago Bulls swingman Jimmy Butler's penchant for wearing cowboy boots is well documented. The Marquette alum and Tomball, Texas natives cowboy "swag" has made him a hit with teammates, while also spawning some light-hearted joking and ribbing at the same time.
But lately, Butler has traded in his boots for Vans. Athletes are a superstitious bunch and at the behest of teammate Carlos Boozer who says the Bulls have been winning when he wears the low-top, canvas kicks, the boots have been shelved … For now.
"Booz was like, 'Man, we're winning when you're in the Vans,'" Butler told NBC Chicago after the Bulls 87-77 victory over the Washington Wizards. "I showed up in boots on Christmas Day and you know the outcome of that game. So Booz was like, 'Yo man, we gotta get you back in the Vans. I'll buy you 15 pairs, however many you want.' So I was like, 'Alright, you don't have to tell me twice.'"
Butler changed his off court footwear roughly two weeks and the Bulls have earned victories over the likes of the New York Knicks, Brooklyn Nets, Philadelphia 76ers and Boston Celtics.
"I'm really superstitious. Whatever I do before the game, if we win or play well, I'm going back to that," explains Butler. "I'm serious. Sometimes Griff [assistant coach Adrian Griffin] is like, 'Man, what's your deal,' but I'm so superstitious. I have to shoot with my bracelets on [during pre-game warmups]; I eat the same meals before the game. I've always been like that."
Follow "Outside Shot" on Twitter (@Outside_Shot) for more Bulls news and information.