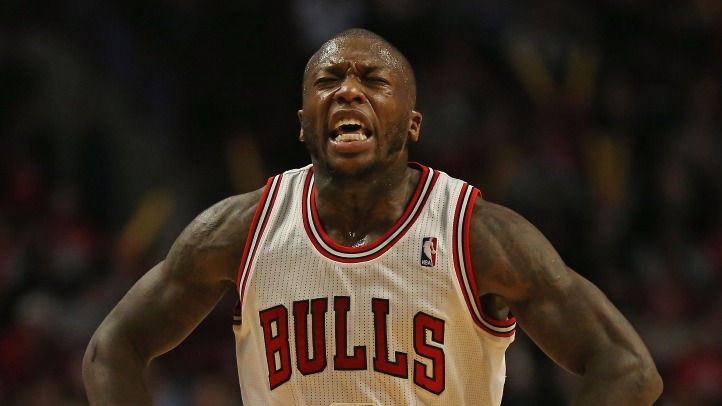 An 80-76 loss to their rival in the Central Division wasn't exactly the way the Bulls wanted to open their four-games-in-five-nights stretch. A two-game win streak was snapped on Tuesday night as Chicago fought hard against the Indiana Pacers, but in the end, they came out on the wrong end of a game that was ugly but also competitive.
Fans most likely will be upset at the controversial no-call on Roy Hibbert with just seconds remaining in the game as Luol Deng drove to the basket with the Bulls trailing by two points. Hibbert clearly fouled Deng, but the refs held their whistles and the Pacers escaped with the 'W.'
The no-call wasn't what cost the Bulls the game, though. The contest was really lost in the Bulls' failure to execute offensively, turnovers and their never-ending struggle to score points.
The Good
Luol Deng (17 points, seven rebounds), Carlos Boozer (14 points, 10 rebounds), Joakim Noah (9 points, seven rebounds, three blocks) and Nate Robinson (19 points) had solid individual performances and carried the offensive scoring load for Chicago in the game. The Bulls were also efficient from the charity stripe, going 12-16 shooting and had a slight edge on points, 30-26. Jimmy Butler (4 points, nine rebounds) continues to make things happen as a valuable energy guy off the bench.
The Bad
Marco Belinelli got his first start this season for the injured Kirk Hinrich and didn't fair too well. He finished the game with just 6 points on 2-5 shooting from the field. Kirk Hinrich was no better, finishing with 5 points on 2-7 shooting, although he did dish out six assists. The Bulls also couldn't contain Paul George (34 points, nine rebounds) who had one of his best nights as a pro against a player known for his defense, Luol Deng.
The Ugly
If you take away Nate Robinson's points, Tom Thibodeau didn't get much production from his bench once again. Taj Gibson grabbed seven rebounds but was scoreless on five attempts in 21 minutes of action on the court. The Bulls also didn't dominate on the glass like we've come to expect. The rebounding margin was even at 46, with the Pacers having a slight edge on the offensive glass. Finally, turnovers continue to plague the Bulls as they registered 19 in this game. Leading the way in that category was Noah with five while Deng and Robinson had four each.