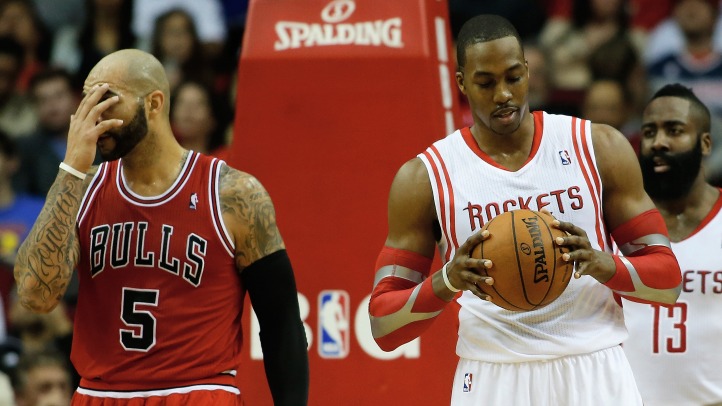 The Chicago Bulls once had championship expectations a few months ago. Now when the Bulls step on the court, they're expected to lose every time. The Houston Rockets were the latest team to hand the Bulls an 'L,' beating them 109-94 on Wednesday night.
If there was one positive to Chicago's sixth loss in their last seven games, they actually seemed to find their offense. The 94 points they scored is the most since they beat the Miami Heat on Dec. 5, and their 48 percent field goal shooting is the highest since the Miami game as well. But that's about where the good vibes for Chicago end.
"When you lose, it's not fun," said Joakim Noah who scored six points and grabbed 10 rebounds in the game. "We have to keep battling. The games keep coming. Nobody feels sorry for us. You can't feel sorry for yourself. We just have to play harder."
Of course, playing hard has never really been an issue for the Bulls, whether they've been shorthanded or not. The problem for Chicago has been their inability to score and the inability to stop their opponent from scoring – a staple of their defense under Tom Thibodeau.
Of course, that probably sounds overly simplistic, but it's true.
"We didn't take anything away," said Tom Thibodeau. "They hurt us in the paint. They hurt us with the three [pointer]. We didn't play well."
The Bulls were outscored in the paint 66-40, they trailed by as many as 20 points, and five Rockets players scored in double figures, on the way to shooting 54 percent from the field as a team. It's tough to win games when the opponents have stats like that.
"I feel like we're still trying to figure out this whole different concept with this team we have right now," said Taj Gibson. "We've been digging and grinding and right there. So it's real deflating. But we just have to keep pushing."
The push continues on Thursday night when the Bulls travel to Oklahoma City to face the Thunder.