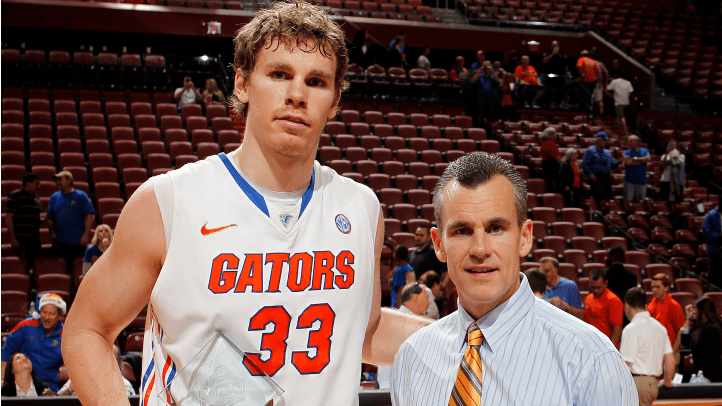 With the exception of Marquis Teague who helped Kentucky win a National Championship in 2012, many of the collegiate rookies the Bulls have drafted over the years have been relative unknowns, especially if you're just a casual fan of college basketball.
So when Chicago selected Erik Murphy in the second round of this year's NBA Draft, many fans were probably like, "who?"
But Murphy is a very skilled big man who can help the Bulls in a number of ways, and his former coach at Florida, Billy Donovan – who also coached Joakim Noah – knows what kind of player Murphy is and feels he can help the Bulls as he becomes acclimated to the NBA.
"Erik is not Taj Gibson or Joakim Noah; he's different and he brings something different to the table," Donovan told Bulls.com. "He's a pick and pop guy, someone you can space behind the line. He's a guy you can run pick and roll with and he'll put some teams into dilemmas because they can't switch on him and put their power forward on someone like [Derrick] Rose."
Versatility seemed to be the order of the day for the Bulls when it came to drafting this year. Tony Snell is another player the Bulls are high on because of his versatility and the type of player he projects to be on both sides of the ball. While Murphy, a stand-still, knock-down shooter and also a pretty good rebounder, adds to the versatility the Bulls seem to covet these days.
"I think he's similar to guys like Ryan Anderson and Matt Bonner," said Donovan. "He's going to be kind of a specialist when he gets in there offensively. I wouldn't compare him to Bonner too much though as they are different kinds of players. But they both have the ability to step behind the line, shoot it, and create spacing. He's a stretch four and there's no question he's got NBA skill."
Normal 0 false false false EN-US JA X-NONE /* Style Definitions */ table.MsoNormalTable {mso-style-name:"Table Normal"; mso-tstyle-rowband-size:0; mso-tstyle-colband-size:0; mso-style-noshow:yes; mso-style-priority:99; mso-style-parent:""; mso-padding-alt:0in 5.4pt 0in 5.4pt; mso-para-margin:0in; mso-para-margin-bottom:.0001pt; mso-pagination:widow-orphan; font-size:12.0pt; font-family:Cambria; mso-ascii-font-family:Cambria; mso-ascii-theme-font:minor-latin; mso-hansi-font-family:Cambria; mso-hansi-theme-font:minor-latin;} Follow Outside Shot on Twitter (@Outside_Shot) for more Bulls news and information