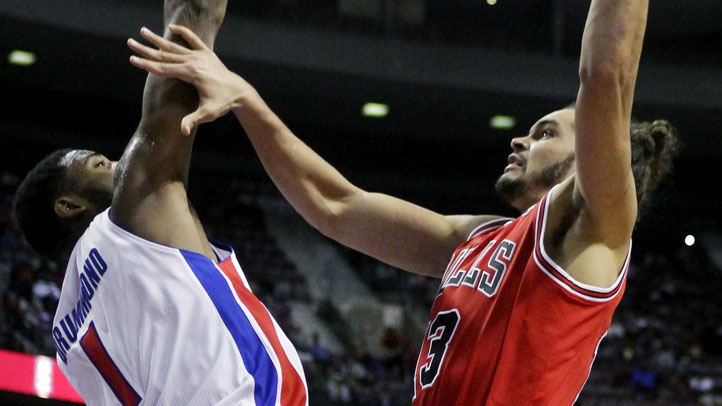 Joakim Noah had 30 points and 23 rebounds, setting career highs in both categories and helping the Chicago Bulls beat the Detroit Pistons for the 16th straight time, 108-104 on Friday night.
Chicago trailed by as many as 17 points in the second quarter, but the Bulls rallied toward the end of the half and took control in the fourth quarter.
All five Chicago starters finished in double figures, including Carlos Boozer with 24 points. Luol Deng and Marco Belinelli scored 16 apiece.
Rodney Stuckey led Detroit with 24 points and Brandon Knight added 21. The Pistons had 28 rebounds on the night, only five more than Noah had by himself.
Noah's previous career highs were 26 points and 21 rebounds.
The game was tied at 82 in the fourth quarter when Noah rebounded a Chicago miss and made a layup while being fouled. The Pistons were able to hang around after the three-point play, but after they let Noah come up with another offensive rebound that led to a dunk by Boozer, the Bulls were ahead 100-93.
Deng's 3-pointer pushed the lead to 10, and although Detroit cut into the margin during a sloppy final minute, the outcome was never really in doubt.
Noah had 10 offensive rebounds, twice as many as the entire Detroit team. He and Boozer both shot 12 of 19, giving the Bulls enough scoring on a night their defense wasn't all that impressive.
Chicago has been without star point guard Derrick Rose all season after he underwent reconstructive surgery on his left knee. Richard Hamilton has also been out lately with a left foot injury.
Detroit hasn't beaten Chicago since Dec. 23, 2008, but for most of the first half, the Pistons looked primed to end that streak. They led by as many as 17 in the second quarter, shooting 54 percent for the half.
Chicago went on a 12-0 run late in the second quarter and trailed 55-50 at the half. The Bulls took a 71-70 lead on a 3-pointer by Kirk Hinrich. Chicago was ahead 78-74 after three.