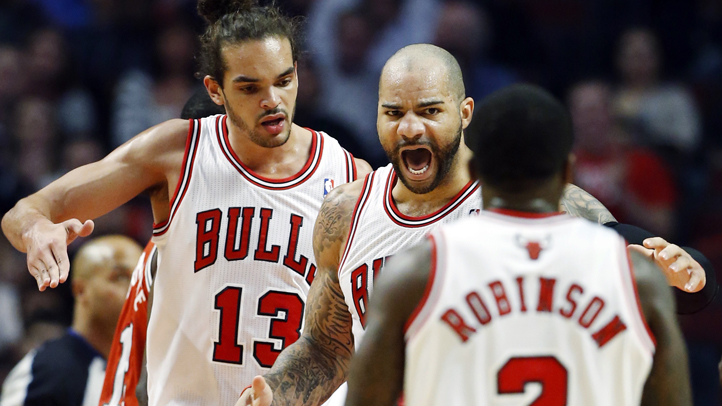 For a while on Wednesday night, the Chicago Bulls' 16-game winning streak over the Detroit Pistons appeared to be in jeopardy. At one point in the game, Chicago trailed Detroit by 17-points, but that's when Joakim Noah and Nate Robinson took over.
The energy of Joakim and Nate sparked the Bulls in the fourth quarter, leading Chicago on a 22-5 run. At one point, Robinson scored 9 straight points and his infectious energy and enthusiasm got his teammates and the United Center crowd pumped up.
Detroit couldn't overcome the downhill swell of momentum on the part of the Bulls and ultimately fell 85-82, extending their losing streak to Chicago to 17-games, the second longest streak of futility from one team who just can't seem to beat another.
The Good
On the eve of Joakim Noah (10 points, 18 rebounds) potentially making his first ever All-Star game, he certainly solidified his case to participate. He played with tremendous energy and made the game-changing save late in the fourth quarter that led to Marco Belinelli's (five points) game-winning layup. Nate Robinson (11 points, 7 assists) was tremendous in the game as well. And what more can we say about Jimmy Butler (18 points, 9 rebounds) who has played wonderfully in place of the still injured Luol Deng. Butler got off to a slow start in the game but made some big plays down the stretch to help secure the victory. The Bulls had six players score in double figures, made 20 of their 26 free-throw attempts, and were a +6 in rebounds at 43-37, and the team got out in transition, outscoring the Pistons in fast break points, 14-5.
The Bad
There's no way the Bulls should have trailed the Pistons by 17 points, but as has been the case this season – especially at home – the Bulls came out of the gates flat and played with no energy. It appeared that it would be another night of Chicago playing down to their competition, but thankfully, they were able to turn things around late in the game.
The Ugly
If you're Kirk Hinrich, how do you follow up a masterful performance against a Hall of Famer in Steve Nash? You go 0-5 against Brandon Knight and score no points and dish out just three assists in the game. Hinrich has been somewhat of a disappointment this season although to his credit, he has spent much of the year fighting various injuries. But after playing so well against the Lakers on Monday, he quickly reverted back to the Hinrich we've become used to watching this season.
Follow "Outside Shot" on Twitter (@Outside_Shot) for more Bulls news and information.