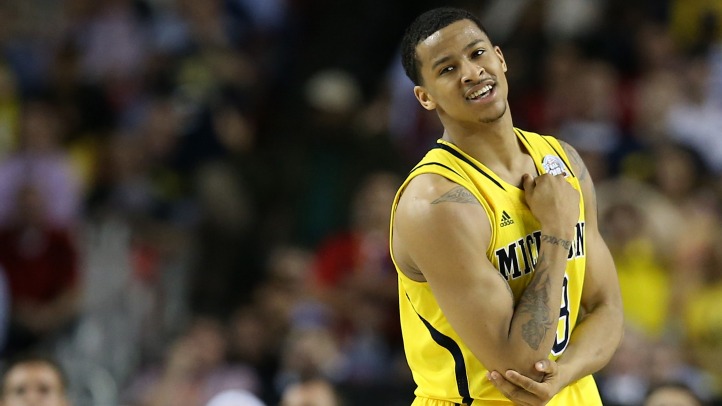 The 2013 NBA Draft is less than a week away and we've already got a future rookie talking trash. Well, sort of.
Michigan guard Trey Burke, the Big Ten and national player of the year, was asked in a recent interview with MLive.com about who he was most eager to guard once he got to the NBA. The 6-foot guard picked two guards who are not only taller than he is, but are the cream of the point guard crop in the NBA.
One was Oklahoma City's Russell Westbrook, the other? Former MVP and current Chicago Bulls superstar, Derrick Rose.
"Derrick Rose. That's so big of a challenge," Burke said. "Even him coming off of injury. Watching him from school, from Memphis to the NBA ... I think that's a great challenge for me."
Rose sat out the Bulls 2012-13 season rehabbing his knee after ACL surgery last year but is expected to come back next season and pick up right where he left off. And what Burke may not realize is that Rose – despite his quiet and unassuming nature – prides himself on outplaying any point guard he's matched up against. But Burke isn't backing down from his statement.
"When I do play against a guy like Derrick Rose, I'm not going to back down. I'm going to give him everything I have. … The bigger guards that are explosive (the guards) people say I can't play against."

We admire your confidence, Trey, but here's some advice: Be careful what you ask for.
Normal 0 false false false EN-US JA X-NONE /* Style Definitions */ table.MsoNormalTable {mso-style-name:"Table Normal"; mso-tstyle-rowband-size:0; mso-tstyle-colband-size:0; mso-style-noshow:yes; mso-style-priority:99; mso-style-parent:""; mso-padding-alt:0in 5.4pt 0in 5.4pt; mso-para-margin:0in; mso-para-margin-bottom:.0001pt; mso-pagination:widow-orphan; font-size:12.0pt; font-family:Cambria; mso-ascii-font-family:Cambria; mso-ascii-theme-font:minor-latin; mso-hansi-font-family:Cambria; mso-hansi-theme-font:minor-latin;} Follow Outside Shot on Twitter (@Outside_Shot) for more Bulls news and information