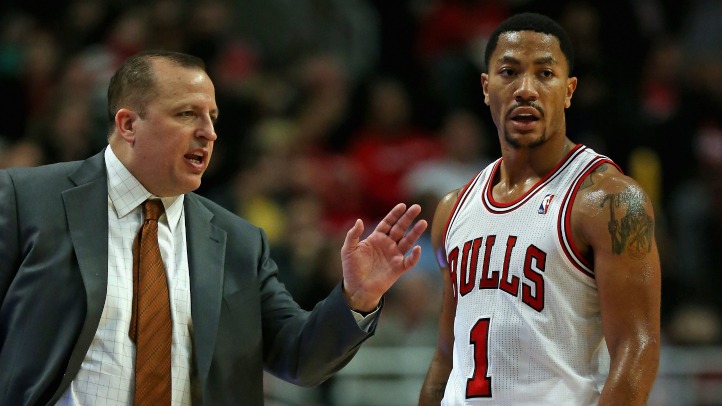 Derrick Rose's surgery to repair the torn medial meniscus in his right knee back in November was a successful one, and the former MVP has been undergoing therapy and rehab ever since. On Monday, after the Bulls' shootaround at the United Center, Tom Thibodeau said his point guard was off crutches and could begin traveling with the team soon.
"He's coming along fine. He's off the crutches," Thibodeau said. "He's doing more and more but he still has a long way to go. But he'll probably start traveling in the next couple weeks. He's doing great."
Rose's second consecutive knee injury was pivotal in the Bulls' financially sensible but wholly unpopular decision to trade Luol Deng to the Cleveland Cavaliers a week ago. Thibodeau didn't seem to be on board with the move, and neither did Joakim Noah who voiced as much after Saturday's victory over the Charlotte Bobcats.
But the head coach – who was embroiled in a bit of controversy of his own over the weekend because of a rumor that he has a secret deal in place to become the next head coach of the New York Knicks – says he still feels confident that everyone's commitment within the organization to win a championship is the same.
"Look, Jerry [Reinsdorf] owned the team a long time," Thibodeau said. "Not many people own two major sports franchises. So I think he has a very good understanding of winning and losing and what goes into it. There's a lot of tough decisions that have to be made. I don't think he ever shies away from that. And he's treated me great so that's all I can go by."