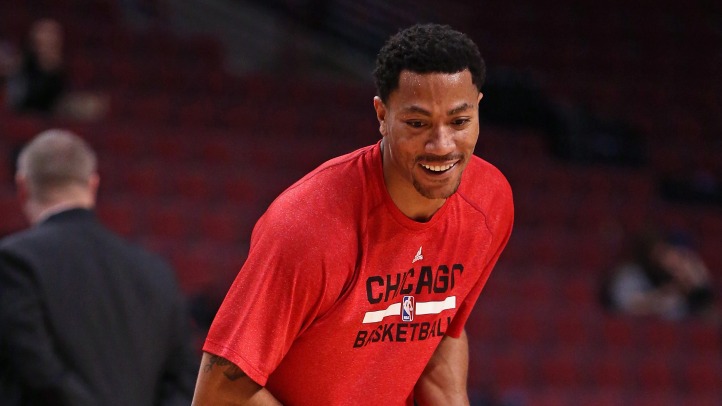 During a Bulls charity event earlier this month, Derrick Rose gave a status update on his progress from meniscus surgery and addressed a possible return to the court this season saying, "When I get off the [anti-gravity treadmill], that's when I'll consider coming back or not."
On Wednesday, before the Bulls hosted the Golden State Warriors, Tom Thibodeau told reporters that D. Rose was now running without the use of the anti-weight bearing treadmill.
"He's off the anti-gravity treadmill," the head coach said. "Still on it at times, but he's full-weight now and doing lateral slides and things like that. But he's nowhere near practicing or anything like that."
In light of last season's fiasco where the Bulls failed to officially declare that there was no chance for Rose to play after his ACL surgery, the team immediately ruled him out after he underwent arthroscopic surgery on his right knee this year. However, there have been quiet rumblings that the former MVP could make a comeback this season, possibly even in time for the playoffs.
But both the Bulls and Derrick Rose himself have been non-committal on it, despite increased speculation that there might be a chance – even if slight -- we could see No. 1 in Bulls uniform sooner than the 2014-15 campaign.
"We're still working on the premise that he's out for the year," said Gar Forman. "Everything with his rehab is on schedule, and he's doing well. But that's the premise we're working under."
"He's out for the season," said Thibodeau. "Nothing has changed there."