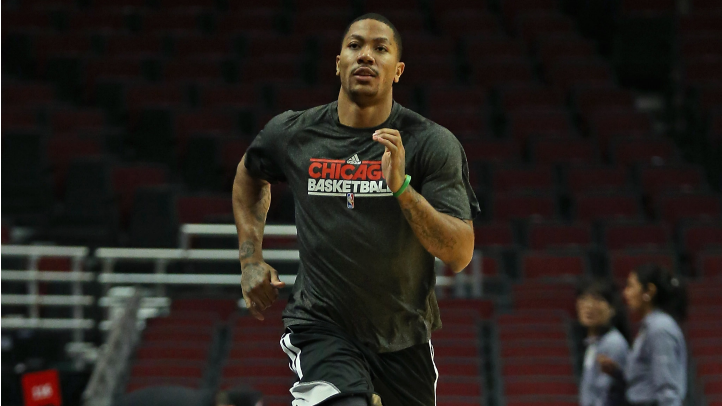 Derrick Rose spent the Chicago Bulls' 2012-13 regular season and postseason rehabbing from knee surgery, much to the chagrin of many Bulls fans. But head coach Tom Thibodeau revealed recently that the South Side superstar looks like he's back to being the D. Rose of old.
"I worked him out about a week ago," Thibodeau told ESPN Chicago. "It was great."
The coach says Rose appears to have his explosion and speed back once again, but more importantly, he has confidence in his knee. That was the underlying reason for his decision to sit out the Bulls campaign this year.
"Watching the way he's moving now, there's a confidence," Thibodeau said. "[Reporters] may not have been able to see the total work he was putting in. But he was putting in an enormous amount of work each and every day. He just never got to the explosiveness he was comfortable with. I think he's there now. He feels great, and that's the most important thing."
Rose tried to maintain a positive and optimistic attitude about returning to play, yet he never did and that angered and frustrated many people. But inside the organization, they trusted his judgment on his physical health completely and stood by their embattled superstar.
"The kid was being totally honest," Thibodeau said about Rose's responses to his health during the season. "At the end of the day, you have to respect that. He wanted to be out there very badly. But no one knew when he would be ready, including him. It was a smart decision to wait. If you're not quite sure, and you're going to err, err on the side of caution. That's what he did. And now he feels great."
And what about the reports that said he was "dominating" his teammates in practice? Well, that just wasn't true according to Thibs.
"He was practicing and he was good sometimes, but he also wasn't able to make the kinds of plays he likes to make," Thibodeau said. ""No one is more explosive and can change direction like him. He had to be capable of doing that. That's what makes him so unique, how quick and explosive he is.
"He can jump sideways to avoid contact. He's always hopping around. That's a lot on your knee. You have to be comfortable doing that. He takes off and he doesn't take long to go from securing the ball to exploding and blowing by somebody."
D. Rose is still in Chicago, but will leave in about a week and heading to his usual summer hang out, Los Angeles, to work out with his personal trainer Rob McClanaghan. From there, he will travel to an adidas-sponsored exhibition July 7-10 in Belgrade, Serbia, among other summertime commitments.
Thibodeau plans to visit Rose in Los Angeles at some point.
Normal 0 false false false EN-US JA X-NONE /* Style Definitions */ table.MsoNormalTable {mso-style-name:"Table Normal"; mso-tstyle-rowband-size:0; mso-tstyle-colband-size:0; mso-style-noshow:yes; mso-style-priority:99; mso-style-parent:""; mso-padding-alt:0in 5.4pt 0in 5.4pt; mso-para-margin:0in; mso-para-margin-bottom:.0001pt; mso-pagination:widow-orphan; font-size:12.0pt; font-family:Cambria; mso-ascii-font-family:Cambria; mso-ascii-theme-font:minor-latin; mso-hansi-font-family:Cambria; mso-hansi-theme-font:minor-latin;} Follow Outside Shot on Twitter (@Outside_Shot) for more Bulls news and information