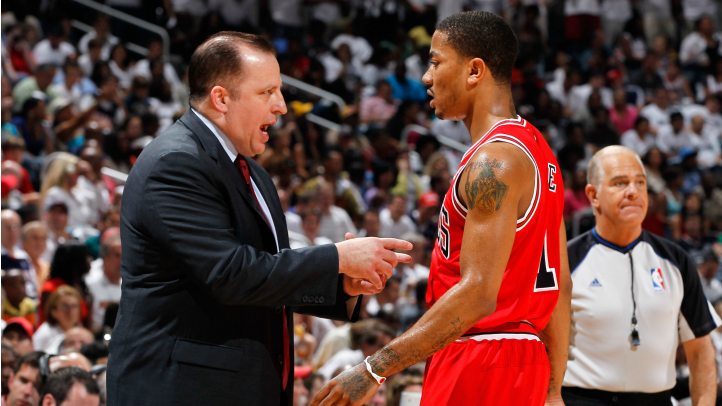 The arrival of September means NBA training camp is just a few weeks away. There's no doubt guys are already working out and getting in shape for one of the more anticipated seasons in recent memory.
Much of that anticipation stems from the return of Derrick Rose and, in a sense, the return of the Chicago Bulls to the upper echelon of the NBA. Last season, the Bulls were still one of the upper tier teams in the league without D. Rose, but with their star back, Chicago once again finds themselves in the championship conversation.
Last week, Tom Thibodeau visited Rose in California where he spends his offseason. Working with long-time trainer Rob McClanaghan, Thibs says D. Rose now has increased range on his jump shot and added a left-handed floater to his already extensive offensive arsenal.
The head coach doesn't foresee any sort of restrictions for Rose during training camp or in the Bulls' preseason contests, which can mean only one thing: that Derrick Rose is 100 percent after his extended time away from the game, but more importantly, he's better than he was before the injury.
Of course it remains to be seen how he reacts to actual NBA competition again, but odds are, he'll perform at the same high level he did before he got hurt. That's great news for Chicago Bulls fans and bad news for the rest of the league.