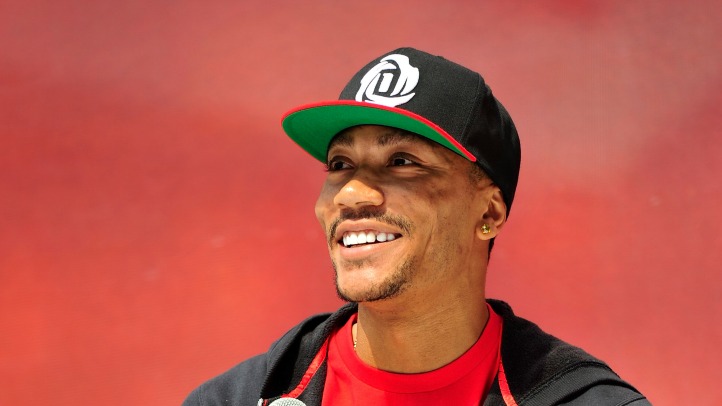 Derrick Rose has declared himself 100 percent and guaranteed that he will play in the team's first game next season.

This music to Bulls fans' ears came while the former league MVP was in Madrid for his adidas-sponsored D. Rose Tour.
"I should be able to play in the first game of season," Rose said in a report by HoopsHype.com. "I know I'm anxious right now to play. My health is everything right now. It's 100 percent. But right now, the first game ... I will definitely be playing it."
Rose sat out the Bulls' entire 2012-13 NBA season and experienced some backlash in the process. His teammates and coaches all came to his defense and encouraged him to take his time recovering from knee surgery, but fans – and at times, the media – were less than understanding of the pragmatic approach.
Tom Thibodeau, who was in Las Vegas to watch the Bulls play summer league ball, co-signed on Rose's assessment of his health.
"He's doing great. He's 100 percent right now. He couldn't quite get there during the season. He tried as hard as he could but never got comfortable enough," Thibodeau told ESPN. "But he's feeling great and what the summer has done is given him even more time to continue to build strength and confidence. He's doing everything right now. He's ready to go."
Thibodeau, when asked when he expected Derrick Rose to be the player he was before the knee injury, wasted no time in saying he expected the D. Rose of old to pick up right where he left off.
"I think you'll see glimpses of it right from the start," said Thibodeau. "He's been off for a long period of time, so there will be a period of adjustment for him. But physically, he's great, and he's had a chance to really work on his shooting and his shot is very much improved. I think he's going to be more comfortable with a lot of other things in his game as well. He's a guy who studies the game hard and every season he's come back and he's improved significantly in some area, so he's added a couple of things to his game and he's anxious to get started."
Normal 0 false false false EN-US JA X-NONE /* Style Definitions */ table.MsoNormalTable {mso-style-name:"Table Normal"; mso-tstyle-rowband-size:0; mso-tstyle-colband-size:0; mso-style-noshow:yes; mso-style-priority:99; mso-style-parent:""; mso-padding-alt:0in 5.4pt 0in 5.4pt; mso-para-margin:0in; mso-para-margin-bottom:.0001pt; mso-pagination:widow-orphan; font-size:12.0pt; font-family:Cambria; mso-ascii-font-family:Cambria; mso-ascii-theme-font:minor-latin; mso-hansi-font-family:Cambria; mso-hansi-theme-font:minor-latin;} Follow Outside Shot on Twitter (@Outside_Shot) for more Bulls news and information