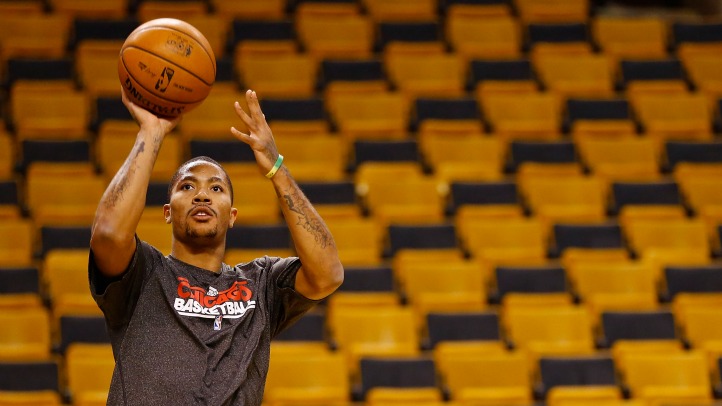 "That's what happens when you rush back."
Those were the words uttered by Taj Gibson Tuesday night after reinjuring his knee in the second quarter of the Chicago Bulls' loss to the Washington Wizards. Gibson had missed 10 games with a sprained MCL and had only been back in the lineup for six games before hurting himself again.
Knee injuries are no joke and what happened to Gibson and his subsequent comments should be a lesson to those Bulls fans who have a problem with – and have made negative comments about – Derrick Rose still electing to sit out despite medical clearance from doctors to resume playing NBA basketball again.
Any sort of injury to a knee ligament – ACL, MCL, LCL, PCL – should be treated with extreme caution if you're an athlete. But when you're talking about guys who make sports their livelihood, it's even more imperative to be careful and take the recovery slowly.
No two athletes are the same and every injury is different. It's easy to look at D. Rose from a fan perspective and get upset that he hasn't played yet because you're comparing him to what another player has accomplished with the same injury.
I can't tell you how many times I've heard someone make this comment when discussing Rose and his commendable decision to take his time and not rush back until his knee feels normal again: "Look at what Adrian Peterson did."
What many people fail to realize is that Peterson's amazing recovery from a torn ACL to almost breaking the single season rushing record in the NFL last year is the exception, not the rule.
Take these words from noted orthopedic surgeon Dr. James Andrews – whom D. Rose consulted with in Alabama last summer – on Adrian Peterson and what he calls athletes who are "superhumans":
"First patient I ever had like that was Bo Jackson. And recently I, of course, had Adrian Peterson, who is also superhuman. They have an unbelievable ability to recover, whereas a normal human being may not be able to recover."
So while Derrick Rose might wow us on the court with his otherworldly basketball ability, when it comes to recovering from a serious injury such as an ACL tear, he's apparently no different than the rest of us. Taj Gibson's and Dr. Andrews' words should be a lesson to us all about underestimating the way a player feels physically before returning to action.
If they don't feel 100 percent, there is no need for them to rush back and risk hurting themselves again. It's just not worth it and the short-term effects can have long term -- and damaging -- consequences.
Normal 0 false false false EN-US JA X-NONE /* Style Definitions */ table.MsoNormalTable {mso-style-name:"Table Normal"; mso-tstyle-rowband-size:0; mso-tstyle-colband-size:0; mso-style-noshow:yes; mso-style-priority:99; mso-style-parent:""; mso-padding-alt:0in 5.4pt 0in 5.4pt; mso-para-margin:0in; mso-para-margin-bottom:.0001pt; mso-pagination:widow-orphan; font-size:12.0pt; font-family:Cambria; mso-ascii-font-family:Cambria; mso-ascii-theme-font:minor-latin; mso-hansi-font-family:Cambria; mso-hansi-theme-font:minor-latin;} Follow Outside Shot on Twitter (@Outside_Shot) for more Bulls news and information