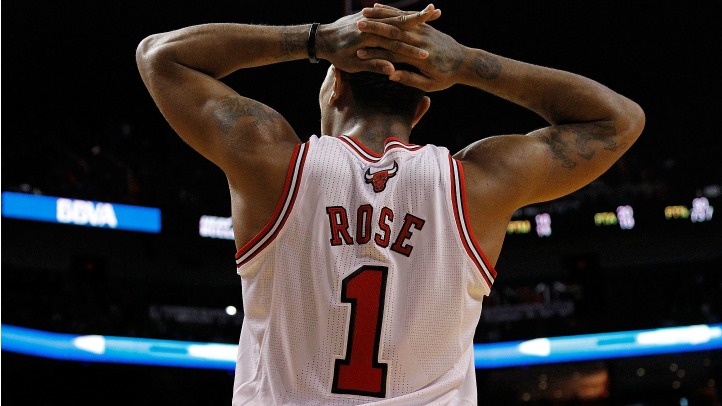 As a native Chicagoan who also hails from Englewood, it was disheartening to see and hear how many people in this city turned on Derrick Rose as a result of his decision to take his time to get fully healthy after injuring his knee last year.

D. Rose is by far the best thing that's happened to this city from a basketball perspective, that it seems unfathomable that he wasn't afforded the chance to get himself in a good place both physically and mentally before playing again.
Sam Smith, the veteran NBA writer who has covered the Michael Jordan era and now, the D. Rose era with the Bulls, suggested in a column on Bulls.com that the guard didn't deserve the harsh criticism he received.
"If you'll check, no member of the Bulls organization on the record ever said Rose was able to play. There was a report he was cleared, though the sentence never seemed to be completed," said Smith. "Anytime you are cleared by a doctor, whether in sports or your own life, it's with the understanding that you are cleared as long as you aren't experiencing any issues. Rose constantly told the team he never fully felt right."
It was that medical clearance report that has caused many to opine that D. Rose was fine physically and could've -- and should've -- played at some point last season. And the fact that he didn't led those same people to make value judgments about the 24-year-old. But Rose did receive support from his teammates, his fellow NBA brethren, and from those who know that an ACL tear isn't quite an ankle sprain.
"I never heard one NBA player say Rose should have been playing. They understand about not feeling right and the effects of major reconstructive surgery," Smith said. "It's also not to say Rose was the only great player this ever has happened to. In fact, most great NBA stars have gone through something similar in their careers when fans and media questioned them … Like those stars, Rose will survive his controversy as well."
So for now, we're all waiting for Oct. 5, when D. Rose steps on an NBA court again. Yes, it'll only be an exhibition game and won't count towards anything, but it'll certainly be rewarding for those who have waited a very long time to see him play basketball again.
"Patience is very difficult, even in this instant Twitter, Facebook and gotcha society these days," says Smith. "More than 400 years ago, William Shakespeare wrote, 'How poor are they that have not patience. What wound did ever heal but by degrees.' … Welcome back, Derrick."