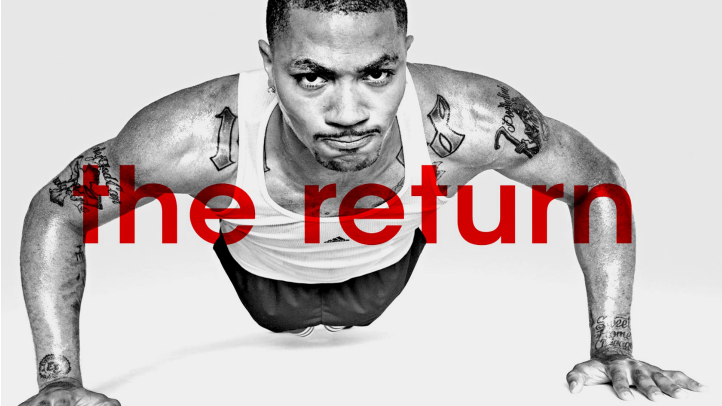 Once Derrick Rose suits up again, many people have privately (and loudly) wondered whether the former MVP will be the same player after tearing his ACL last April. Rose himself has said he feels good and seems to be ready to take the court again, but sitting out last season has raised doubts in the minds of many about the South Side native.
In an interview SLAM Magazine conducted over the summer for an upcoming issue – Rose will appear on the cover – the South Side native talks about how much he improved his body overall while rehabbing his injured knee.
"Right now I'm in training, and I'm getting a lot stronger. I gained 10 pounds of muscle," Rose said. "I don't know how that's going to carry over to how I play on the court, but I know it's going to be very weird. I'm shooting a lot of shots right now, working with Rob, just putting memory back in my leg.
"With me, I was always kind of strong, but the way that I play, I hit tricky lay-ups and all of that stuff because going to the hole in my neighborhood, they don't call any fouls, so I was just used to hitting all types of shots. Now this year, I got a little more strength behind me, so I think going to the hole, taking those shots, I'll be able to finish a lot stronger this year. There should be a lot more and ones, hopefully."
Weight training has always been pivotal in athlete health. The stronger your body, the more you're able to stay healthy and fend off injury, most times, anyway. But it's clear D. Rose feels physically stronger which will give him the confidence to play the same way he always has on the basketball court.
But the added muscle isn't the only physical improvements Rose feels he's made.
"I think I'm a lot quicker, a lot more explosive, and I think I'm gonna go this year without that many nagging injuries," he explained. "Just trying to prevent it by stretching and doing all the things I have to do to take care of my body. When you first come in the League and you're talented and you're athletic, you don't care about stretching or anything. You just kind of go out there and overlook that stuff. But now it's my sixth year, so you really have to look at that and take that more seriously so I can prevent all of the little injuries."