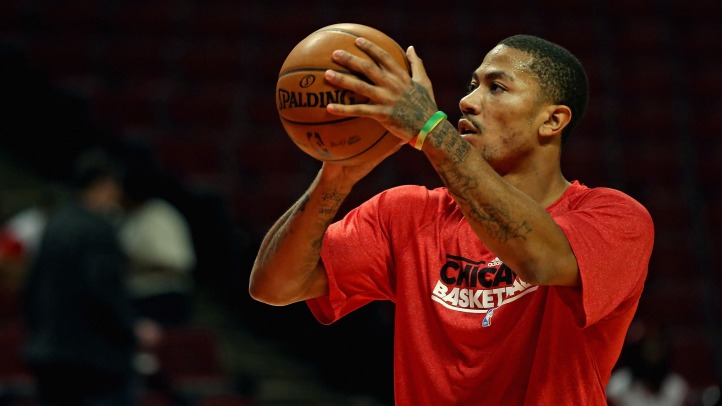 Derrick Rose is back feeling like a basketball player again. The Chicago Bulls superstar said so during media day last Friday and after the first of two practice sessions on Saturday which marked the official start to team's training camp.
After a layoff of more than a year, which included some light practice work towards the end of last season, D. Rose is back to feeling like the player of old and ready to assume the lead role of trying to deliver another championship to Chicago.
"I was moving good. It just felt good being out there with my teammates," Rose said on Saturday. "We won the majority of the games that we did scrimmage against the other team. So that was a good thing. I'm just happy to be out there and feel like a part of the team."
"He did everything. He scrimmaged well," said Tom Thibodeau of Rose's first full practice. ""I'd say he doesn't have to pace himself like he did [practicing last season]. That part is a lot better. The change in direction is much better. The driving and finishing is a lot better. His timing is still not there, but it's a good start.''
Some rust is to be expected on Rose's game after such a long layoff and the fact that he doesn't play 5-on-5 basketball outside of practices and games. But getting his timing and rhythm for the game back is much less of a concern than how his knee held up after day one.
"I've got confidence in my knee. There's no testing anymore," he said. "I was attacking, but getting fouled; learning how to fall, all that stuff I'm learning. That's just the way I play. I came in this league a driver and I'm going to continue to drive."
Now that he's back, Bulls fans are hoping Derrick Rose can drive Chicago back to the NBA Finals as the last team standing this season.