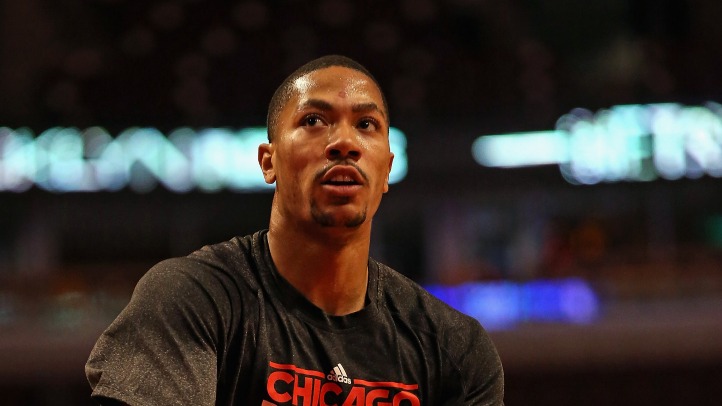 Now that the initial shock of Derrick Rose's knee injury has worn off and the reality that these Bulls will no longer be the formidable, championship caliber squad they once were before Rose was declared out for the remainder of the season, the question on everyone's mind is 'what's next?'"
General manager Gar Forman went on Bulls.com to address these questions, and the foremost thing on his mind was the health of the team's superstar and the face of the franchise.
"Whatever is best for Derrick in the long term as a 25-year-old athlete was our first thought. And what's best for Derrick is best for the franchise," Forman said. "He's still young, has a very long career ahead of him and there's no reason after talking to the surgeons Derrick will not return 100 percent."

Rose injured himself Friday night against the Portland Trailblazers and left the Moda Center on crutches. He traveled with his teammates to Los Angeles and received an MRI on Saturday afternoon that confirmed the tear.
Rose underwent arthroscopic surgery on Monday to repair the torn medial meniscus in his right knee. It's his second knee surgery in 18 months. The option to repair the meniscus was seen as the best solution for his health and career, long-term, but in the short term, it meant that D. Rose would have to sit out yet another year.
"We are never going to be shortsighted when it comes to a player and his health. The decision had been made to repair it if possible. Once the surgeons saw how good the tissue looked, they stayed with that option," Forman explained. "To do otherwise could have made the knee less stable and increase the risks down the road as we've seen with other NBA players. Given the circumstances, the procedure and outcome was as good as could be expected."
As for the future of the team, Forman insists that even without Rose, the current group can still be competitive in the league this year. While some fans have accepted the obvious – even encouraging the team to tank the season – the GM says no decision has been made yet on what the team will do from this point forward.
"Look, we are always evaluating our team, just like everyone else does. We felt good about this season, but we were hardly perfect. So we always are looking to get better. Everything we do is geared toward winning a championship and we will continue to evaluate any moves that will help us in attaining that goal."