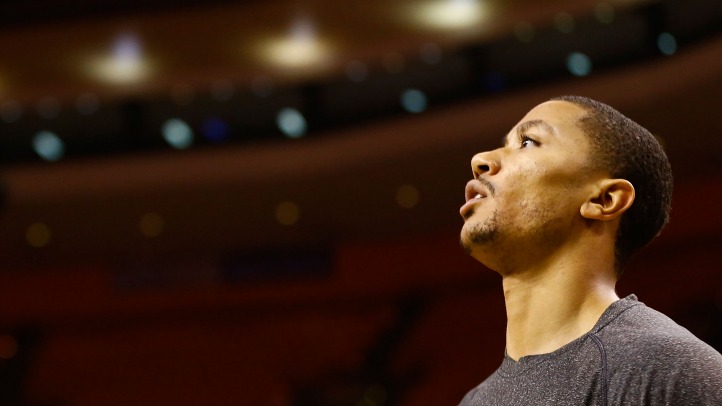 Give him credit; Derrick Rose knows how to keep his name in the news.
He caused a stir locally with his USA Today interview earlier this week, and on Wednesday night, the former league MVP hinted to the Chicago Tribune that he could possibly miss the entire 2012-13 season as he continues to recover from his torn ACL.
"I'm feeling good, but if it's where it's taking me a long time and I'm still not feeling right, I don't mind missing this year," Rose said. "I would love to [return]. That's why I approach my rehab and workouts so hard. I'm trying to get back on the court as quickly as possible. But if I have anything lingering on, it's no point. My leg still isn't feeling right."
That's sobering news for Bulls fans hoping to see D. Rose back on the court again this season. It also makes them wonder what's so different between Rose and the New York Knicks' Iman Shumpert or the Minnesota Timberwolves star point guard, Ricky Rubio. Both suffered the same injury – Shumpert's ACL tear came on the same day as Rose's – and are back playing for their respective teams.
The final decision on when he'll play again seems to have been left up to D. Rose and he seems content to take his time before throwing himself back into the fray.
"It's really on me to make that decision when I'm going to play again. That's cool that they left it up to me."
Rose still hasn't played any 5-on-5 basketball yet, but that will probably happen after the All-Star break. But he has been playing competitively in some capacity.
"I'm slowly getting back in the mix," Rose explained. "The other day, we played three-on-three and one-on-one. I felt good out there. I'm not trying to rush myself still. I'm still trying to be patient."
But unfortunately, the patience of fans may be running thin.
Follow Outside Shot on Twitter (@Outside_Shot) for more Bulls news and information