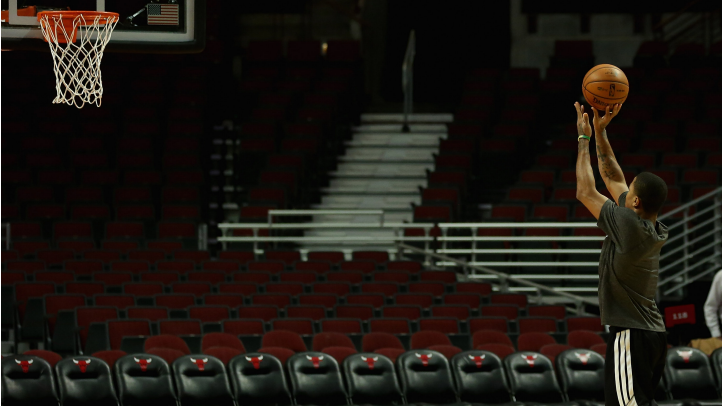 The Chicago Bulls are back in action Tuesday night, but on Monday, the big news out of Deerfield was Derrick Rose practicing 5-on-5 for the first time. Despite comments made last week that his knee still doesn't feel the way that it should, D. Rose running up and down in a full-court setting is a significant milestone.
Up until now, Rose had been going 1-on-1 and 2-on-2 in practice, so being able to get up and down the floor in a game-like setting is a pretty big deal. Short of playing in an actual regulation contest, it's the closest measure he'll have on just how his knee responds to the rigors of playing basketball for 94 feet.
D. Rose will still have to go through a couple weeks of sustained practices in this manner before there can be an accurate gauge or timetable on when he possibly could return to action, but the fact that he's reached this point is encouraging.
The real hope in all of this is that going full-court in practice will build Derrick's confidence in his knee and possibly spur his decision to get back in uniform sooner after saying he'd be comfortable taking the remainder of the season off. Rose has said not being able to dunk in stride is what's really keeping him off the court, but he's been trying to do it in a rehab situation and that makes a big difference.
Running up and down with his teammates and just playing competitive basketball again will get his adrenaline going and juices flowing for the game. It'll help ease him from thinking on the court and being hesitant with his knee, to just playing again. Once that starts to happen consistently, there could be a moment in practice where he drives hard and just takes off and throw it down off one leg.
It'll be at that moment when he'll feel confident enough to say he's ready to play again … but that's putting the cart before the horse.
For now, let's just all take solace in knowing D. Rose is playing basketball again and keep our fingers crossed that we'll see him at some point in the second-half of the season.
Follow Outside Shot on Twitter (@Outside_Shot) for more Bulls news and information